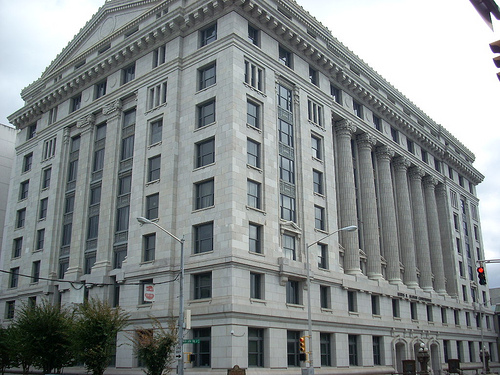 "Fulton County Court House" courtesy of [Jeff Clemmons via Flickr]
Entertainment
Nick Gordon Found Responsible In Death of Bobbi Kristina Brown
By
|
A judge in Atlanta ruled in a civil lawsuit that Bobbi Kristina Brown's boyfriend Nick Gordon is legally responsible for her death. He repeatedly failed to show up in court, which led the conservator of her estate to win the suit by default. The lawsuit originally sought $50 million in damages for Brown's unlawful death. A final amount will be determined by a jury in light of Friday's ruling.
Bobbi Kristina Brown, the daughter of Whitney Houston and Bobby Brown, died in a way that was chillingly similar to that of her mother. In January 2015 she was found unconscious, face down in a bathtub in her Atlanta home. She died in hospice care in July that year.
According to her autopsy, she had morphine, cocaine, alcohol, and prescription drugs in her body when she died. Because of the unclear circumstances surrounding her death, no one was certain whether it was a suicide, murder, or an accident. Nick Gordon was never charged with a crime for Brown's death.
In August 2015, the conservator of Brown's estate, attorney Bedelia Hargrove, filed a wrongful death lawsuit against Gordon. The lawsuit accused him assault, battery, intentional infliction of emotional distress, and transferring money from her account without authorization.
JUST IN: Nick Gordon 'found responsible' for death of Bobbi Kristina Brown by judge https://t.co/CmJLuWfPju pic.twitter.com/4zZ9smwqSy via @ajc

— Laura A. Harris (@LauraHarrisWFTS) September 16, 2016
According to the lawsuit, Gordon came home intoxicated after a night out and got into an argument with Brown. During the ensuing exchange, the court filing alleges that he gave her a "toxic cocktail," which left her unconscious. It  also claims Gordon then put her face down in a bathtub filled with cold water, which caused her to suffer brain damages. Gordon then went into the bedroom, where a female guest was waiting, and said, "Now I want a pretty little white girl like you." After about 15 minutes he tried to wake Brown up and unsuccessfully preformed CPR.
Gordon's best friend spoke out about Brown's in court, saying that she once called him in panic after Gordon attacked her. Gordon has continuously denied having anything to do with Brown's death, but because he failed to show up in court on multiple occasions, the court ruled against him.
R. David Ware, a lawyer for Brown's conservator, said after the ruling:
In court today, we finally finished a long journey for justice for Bobbi Kristina Brown. The court agrees with us, by striking Mr. Gordon's answer that he is legally responsible for her death. The only thing left to prove is the value of her life. We intend to do that.
But Brown's aunt who spoke to reporters outside of the courthouse was still filled with anger. Although she was pleased with the court's ruling, she said she wanted to see justice for her niece and for Gordon to be arrested.