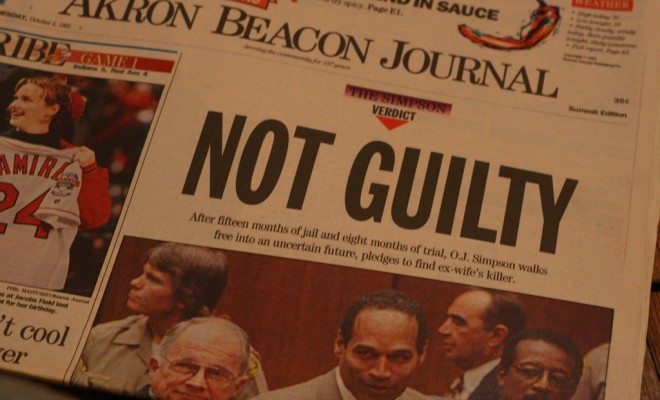 "October 4, 1995" courtesy of [Sarah Sphar via Flickr]
Entertainment
"American Crime Story" Teaches Millennials A Much-Needed Lesson
By
|
On October 3, 1995, seven jurors announced to the world that they found Orenthal James Simpson not guilty of two counts of murder. The very next day, as the widely televised news was printed in the daily newspapers, I was born.
Being a newborn infant, I was painfully unaware of the media spectacle, racial tensions, cultural effects, and legal quagmires presented by this all-consuming trial. Even as I grew up, I barely knew that it had happened. Later in my life, I was able to experience my own equivalents of "the trial of the century," when Michael Jackson went to court for child molestation, and later again when Casey Anthony was acquitted of the first-degree murder of her daughter. The fact remains that when it comes to the O.J. Simpson trial, I knew next to nothing. Up until I watched the first episode of "American Crime Story," which aired on Tuesday night, I probably would have said that the most influential result of the trial was the rise of the Kardashians. That just might be the case for many people my age.
Creator Ryan Murphy, showing much-welcomed restraint in his handling of the material, knows very well that in addition to a public who was saturated with O.J. melodrama twenty years ago, he is courting a millennial audience. Along with his large production team, Murphy needed to make 1994 feel relatable to a host of young viewers. In a way, seeing the '90s on screen is like watching another world. It's almost unrecognizable for me to see a waiter approach Rob Shapiro, played by John Travolta, to let him know someone had called the restaurant to ask for him. I'm reminded of the Seinfeld generation gap, in which cultural touchstones once considered universal are lost on the next generation of consumers.
Still, the odd experience of watching a "period piece" set in the very recent past is offset by the themes inherent to the story–race, privilege, and fame–will never be relegated to a specific generation. The narrative is framed smartly around these issues, chock full of quips about institutional racism in the police department and the preferential treatment of the rich and famous. In the hands of the man behind "Glee," these lines could have easily felt glib, but in today's social atmosphere they only seem prescient.
The show opens with real footage of the Rodney King beating, verdict, and ensuing L.A. riots. I recognized the event after piecing together the soundbites playing alongside the footage. During this opening montage, I realized, embarrassed, that I had never seen the video before. I wouldn't be surprised if that held true for many people my age, even those following the progress of Black Lives Matter and other movements.
I'm led to believe that there's a gap in your understanding of history during the period right before you're born. You're able to take stock of what's happening in the world around you, feeling the aftershocks of a cultural phenomenon, but everything you're taught in school is from well before. The phenomenon of textbooks and teachers waiting for the dust to settle before teaching about something that happened only a few years ago leaves many students unaware of the immediate past. Although I never thought I'd say this about yet another true crime drama, it's refreshing for people my age to take our time understanding this case. In a world as rapidly-paced as ours has become, we rarely take the time to look back on the past, in fear that we might miss something that's happening now.
So I'll continue tuning in, assuming the show won't fall prey to Murphy's tendency to overblow plot arcs and schmaltz-soak finales (advance reviews seem to paint a positive picture of the direction of the show). I'm interested in watching the modern-day parallels develop, reading about what the dramatization gets wrong, and maybe, finally have a sense of what I missed out on just before I was born.