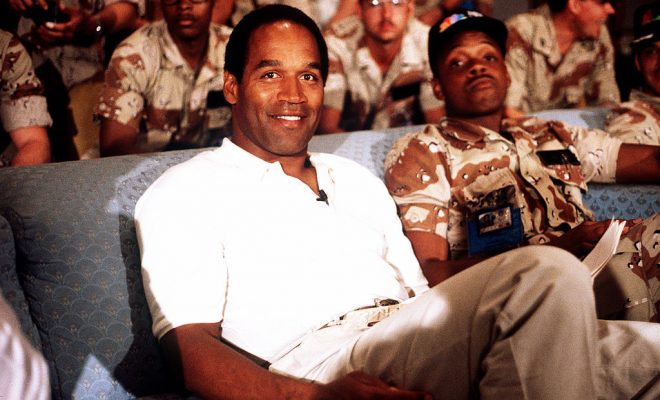 Image courtesy of Gerald Johnson; License: Public Domain
Entertainment
Would You Watch an O.J. Simpson Reality Show?
By
|
O.J. Simpson received renewed attention over the past year, thanks to the miniseries "American Crime Story: The People v. O.J. Simpson" and the Oscar winning documentary "O.J.: Made In America." And now it seems like things are good for the former NFL star and accused murderer; TMZ reports that many reality TV producers are scrambling to sign him if he is released early from prison in October. According to TMZ, some production companies reacted with disgust to the suggestion, while some were pretty eager to capitalize on Simpson's fame.
Simpson is currently behind bars for armed robbery and kidnapping, which he was convicted of in 2008. He was supposed to serve 33 years, but he is now scheduled for a parole hearing in July that could lead to an early release. Simpson is not new to the reality show sphere; apart from starring in some movies and TV shows, he also participated in an early prank show called "Juiced."
The talk about a new reality show is only speculative for the moment, and it is far from certain that he will be released in October, but the reports have already created some mixed feelings on social media.
@TMZ @vibe ESPECIALLY IF HE'S BEHIND YOU BUYING SOME GLOVES

— Morris Corley (@avenger2000es50) March 10, 2017
@HOT97 WTF i just woke up what is going on here

— Princyboy (@princyboy71) March 10, 2017
@CNN just let him out. Who really cares, #Trump is President, and the @Cubs won the @WorldSeries. The end of the world is clearly near.

— The Politcal Pulse (@Politicalpulse1) March 8, 2017
A reality show with Casey Anthony and OJ Simpson called "Killin It"

— Ryan Broems (@ryanbroems) March 2, 2017
Simpson also wrote a memoir, called "If I Did It," which bizarrely went through how he would have killed his ex-wife Nicole Brown and Ron Goldman, if he had been the perpetrator. The book was ghostwritten by writer Pablo Fenjves and according to reviews, it read like a confession. Simpson also took part in a TV special for Fox, but it never aired. According to TMZ, the TV episode featured Simpson reading a passage from the book in which he seemed to confess to the murders. Public outcry led to Fox killing the show.
This would probably also be the problem if a new production featuring Simpson became reality–even if someone produced it, there's the risk that broadcast and cable networks would refuse to air it and it could be hard to find advertisers. But given that these reports appear to be for real, you can never say never when it comes to reality tv.