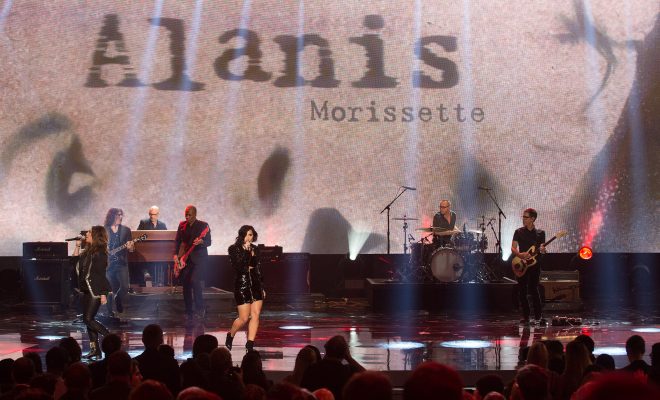 Image courtesy of Disney | ABC Television Group; license: (CC BY-ND 2.0)
Entertainment
Alanis Morissette's Ex-Manager Sentenced to Prison for Embezzlement
By
|
Alanis Morissette's former business manager was sentenced Wednesday to six years in prison for embezzlement after stealing $4.8 million from the singer-songwriter. He will also have to pay $8.6 million–nearly twice the amount of money he stole from her–in restitution.
Jonathan Todd Schwartz worked for the firm GSO Business Management that handled the private finances of artists like Katy Perry, 50 Cent, and Tom Petty. He admitted to having stolen the money from Morissette between 2010 and 2014, as well as $2 million more from five other unnamed clients.
The theft was discovered when Morissette hired a new manager to look over her finances. According to USA Today, Schwartz accused Morissette of having drug problems and being mentally unstable when first confronted about the missing money. He also falsely claimed he invested the money in an illegal marijuana growing business. Later he admitted to lying, placing the blame on a gambling addiction.
In January, Schwartz agreed to plead guilty on charges of wire fraud and tax crimes. He could have received more than 20 years in prison, but the plea deal resulted in a shorter sentence. Morissette previously sued Schwartz, but dropped the suit after he was arrested.
Isn't it moronic: @Alanis Morissette manager sad over 'stupid' theft https://t.co/4139PxxzSI pic.twitter.com/jY7h0q558K

— Star-Advertiser (@StarAdvertiser) May 4, 2017
In April, Schwartz penned a guest column for the Hollywood Reporter to tell his side of the story. While trying to explain why he made the choices he made, he said that his father was a gambling addict who abandoned the family.
"At first, I 'borrowed' a little from clients, with the hopes that I would pay them back if I won that night's bet," he wrote. "That snowballed, and as I kept losing, I kept stealing."
But prosecutors didn't buy it. They said he used the money to finance his extravagant lifestyle and hadn't showed any true regret, despite crying in court and saying that he will spend the rest of his life asking for forgiveness.
"Every expression of remorse he has made and every purported act of self-improvement he has taken occurred only after he realized he had no 'choice' to do otherwise," Assistant U.S. Attorney Ranee Katzenstein said.
For Morissette, the worst part about the embezzlement was not the money, but the betrayal by someone she trusted. In her court testimony, Morissette said her ability to trust has been "shaken to the core."
"He did this in a long, systematic, drawn-out and sinister manner," she said.