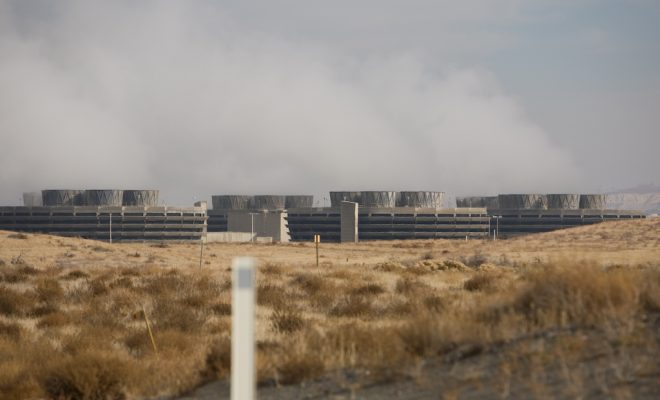 "Cooling" courtesy of Philo Nordlund; license: (CC BY 2.0)
Energy and Environment
Tunnel With Radioactive Waste Collapses in Washington State
By
|
A tunnel that is used for storing radioactive waste has partially collapsed in Washington state, causing the Hanford nuclear site to announce a state of emergency, sending thousands of workers into hiding. The hole in the tunnel at the Hanford Nuclear Reservation means that radioactive particles could leak out in the atmosphere, but by noon on Tuesday, there were no signs of airborne radiation.
Still, workers at the plant were told to take cover, turn off ventilation systems, and avoid eating and drinking. The warning affected thousands of workers and all federal buildings in Hanford. However, even though the damage was worse than first estimated, no radioactive waste is stored in the tunnel that collapsed. Also, the warning did not extend to civilians living nearby. But it was a serious incident that could have been way worse. Edwin Lyman, senior scientist at the Union of Concerned Scientists, said:
This is a potentially serious event. I can see why the site ordered emergency measures. Collapse of the earth covering the tunnels could lead to a considerable radiological release.
The nuclear site is located some 170 miles from Seattle. Starting in the 1940's, the federal government manufactured plutonium there. In fact, the site is where the material for the first nuclear bomb came from. It's no longer in use and the Energy Department is cleaning it up, but that is a lengthy process.
The nation's largest nuclear waste site was on high alert after a tunnel containing radioactive materials collapsed https://t.co/TmezOwVAQ6 pic.twitter.com/YLOaUVRFfo

— Newsweek (@Newsweek) May 9, 2017
According to Reuters, Hanford has often been described as the most contaminated nuclear site in the country. And Lyman said that many of the tunnels on the site do contain radioactive materials that can cause severe illness or death if humans are exposed. The process of cleaning up the site began in 1989 and is expected to take at least 50 years to complete.
The disposal method at Hanford was to put railcars full of the radioactive materials and equipment in tunnels and leave them there, as there is no way to destroy radioactive waste. The radioactive cars were so dangerous that several empty cars had to be placed in between them and the locomotive, so that the conductor wouldn't be exposed to radiation. Hanford received its last radioactive material in the 1990's.
The plan is to eventually come up with a better solution, for example to incase all the railcars in concrete. But that would be an extremely dangerous operation. Washington Governor Jay Inslee agreed Tuesday that the situation is serious. "This is a serious situation, and ensuring the safety of the workers and the community is the top priority," he said. "We will continue to monitor this situation and assist the federal government in its response."