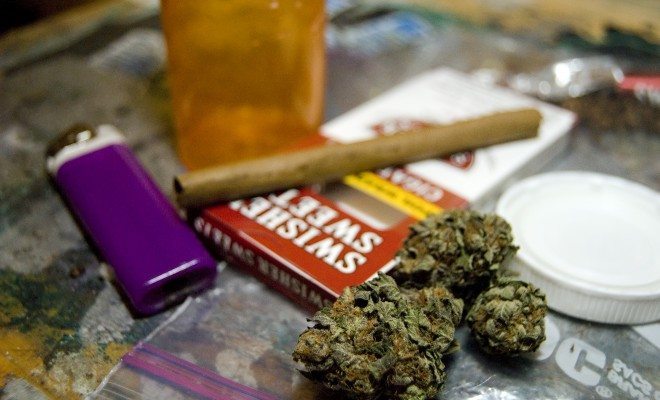 Cannabis in America
Let's Be Blunt: What Marijuana Legalization Actually Means
By
|
In December 2012, Colorado voters made history by approving Amendment 64, legalizing the use and possession of marijuana for anyone over the age of 21. Not long after, Washington voters followed suit, passing Initiative 502 in a state election and effectively legalizing recreational use of the drug.
Although Washingtonians will have to wait until roughly April 2014, pot can officially be sold in specially licensed stores in Colorado as of January 1, 2014. Now that you can legally buy, sell, and smoke marijuana in certain states, there are still questions that need answering.
First off, what exactly does legal mean?
Residents, of at least 21 years of age, can buy up to an ounce of marijuana at a time. If you aren't a Colorado resident, the maximum amount that can be purchased drops to a quarter-ounce.
Marijuana purchased in Colorado cannot cross state lines.
The drug can be sold commercially – but only by specially licensed stores.
It is illegal to consume marijuana openly or publicly. "Retail marijuana" is intended for private, personal use in locations not open to the public.
The drug cannot be consumed in the vicinity of licensed stores, bars, and restaurants. Consumption in public transportation, cars, limos and taxis is also illegal.
It is illegal to drive under the influence of marijuana. Anyone with 5 nanograms or more in their blood while driving can be arrested for a DUI, which could result in fines or jail time.
In Washington, although possession of marijuana is already legal, other significant parts of Initiative 502, namely selling marijuana commercially, will not go into effect for a few months. Like Colorado, however, some restrictions are already in place…
Marijuana is prohibited in public settings.
Drivers are prohibited from having more than 5 nanograms in their blood, an amount supposedly comparable to .08 blood alcohol content, while driving.
Washington State universities can set their own rules regarding marijuana use. In an effort to avoid losing federal funding, University of Washington and Washington State University currently prohibit use and possession of pot on campus grounds.
To deter underage use of the drug, Washington will adopt public health strategies similar to successful anti-tobacco campaigns. Specifically, retail outlets will not be allowed within 1,000 feet of schools and marijuana advertising will be tightly regulated.
Is legalization of marijuana technically unconstitutional?
Technically, the answer is yes.
Known as the "supremacy clause," Article VI Section 2 of the U.S. Constitution establishes federal law as the "supreme law of the land" – hence the name. Seeing as marijuana remains illegal under the Controlled Substances Act, a federal law, the recent legalization of the drug in Colorado and Washington provides an interesting example of the interplay between state and federal laws. Attorney General Eric Holder has said the Department of Justice is taking a "trust but verify approach to the state laws." In addition, Deputy Attorney General James Cole issued a memo to prosecutors across the U.S. 
The Department's guidance in this memorandum rests on its expectation that states and local governments that have enacted laws authorizing marijuana-related conduct will implement strong and effective regulatory and enforcement systems that will address the threat those state laws could pose to public safety, public health and other law enforcement interests. 
Still, for those worried about (technically) violating federal laws, Alison Holcomb, author of I-502 in Washington and drug policy director for the Washington State ACLU, says not to worry.
"Federal law enforcement resources tend to be focused on major organized crime," Holcomb said in an interview with CBS News. "It is very, very rare that marijuana use is subjected to federal enforcement, unless users are on federal lands like national parks. By and large, the DEA has much better things to do than go after the marijuana users."
Can I lose my job for using marijuana?
Although it has yet to become a problem in Washington, Colorado's recent legalization has created a dilemma for businesses and their employees. While Amendment 64 legalized weed, it also gave employers the right to drug test their employees and subsequently fire them if they test positive. Simply put, the new law does not "affect the ability of employers to have policies restricting the use of marijuana by employees." 
Last April, the Court of Appeals in Colorado upheld the firing of Brandon Coats, a Dish Network employee who was let go after he tested positive for marijuana during a random drug test. Coats, a quadriplegic who has used a wheelchair since age 16, uses medicinal marijuana to control his muscle spasms. Coats sued Dish Network, arguing that his use of the drug was legal and that he was never impaired while at work.
The Colorado Court of Appeals ultimately decided Colorado's Lawful Off-Duty Activities Statute, which prohibits employers from firing employees for participating in legal activities during their free time, does not include marijuana use. Because marijuana remains illegal under federal law, the judges ruled that the protections of the statute do not apply. Colorado's Supreme Court announced it will review the case.
With the outcome of Coats' case still uncertain, one can't help but wonder: If smoking marijuana can result in a person losing his or her job, is it really legal?
In an interview with Buzzfeed, Harry Levine, a sociology professor at Queens College and operator of the website marijuana-arrests.com, said the conundrum is the result of clashes between state and federal law. "Everyone's attention is focused on the shiny new post-prohibition legal marijuana industry, and how regulated, interesting, and cool it is," Levine said, "but over here behind door number one is the still-existing structures of nationwide drug prohibition." 
Can I fly with my marijuana?
Again, since federal law regarding marijuana remains unchanged, the drug will not be allowed on airplanes – even if you're flying out of Colorado or Washington. On the "air side" of an airport, which begins at the security checkpoint, federal law reigns supreme. When it comes to possession of weed before going through security, airports have differing policies. The Aspen/Pitkin County Airport, for example, offers travelers "amnesty boxes" – a place where marijuana can be stashed or disposed of without legal consequences. At Denver's Airport however, weed is banned entirely, even in the areas before security.
Because state law forbids any facility from setting any further regulations, airports in Washington are unable to ban the legal amount of cannabis.
What does legalization mean for prior offenders and those currently in prison for weed crimes?
Fair or not, it does not change a thing.
From 2006 to 2010, there have been more than 50,000 marijuana-related arrests in the state of Colorado. For those still serving time in prison, the new legalization will do nothing to free them or reduce their sentencing. In addition, those who have already served time will not have their records expunged.
The reasoning behind this is simple. Since the crimes were committed when possession or distribution of marijuana was against the law, the charges stick. According to Matthew Fleischer, an investigative journalist and contributor to TakePart.com, "whether or not the old law was unpopular or unjust is immaterial."
Unfortunately for anyone sitting in prison for weed crimes, the United States does not guarantee "retroactive ameliorative relief" in sentencing. Although it's a mouthful, the term simply means letting convicts out of prison after a law changes.
The U.S. is one of only 22 countries that fail to guarantee this relief. In an interview with TakePart, Amanda Solter, Project Director of the Human Rights and Criminal Sentencing Reform Project for the University of San Francisco School of Law, elaborated further. "The only other countries that do this are places like Myanmar, Oman, Pakistan, South Sudan, and a handful of countries in the Caribbean," she said and added, "even Russia provides this right."
Is marijuana legalization a continuing trend?
Most likely.
Brandy Zadrozny, a researcher and reporter for The Daily Beast, provides excellent insight regarding the future of legalization in her informative "Guide to State Pot Laws."
According to Zadrozny, the National Conference of State Legislatures revealed that nine states –Hawaii, Massachusetts, New Hampshire, New York, Ohio, Oklahoma, New Mexico, Pennsylvania, and Vermont – and the District of Columbia have introduced some form of marijuana legislation. Alaska, Maryland, Rhode Island, and Wisconsin are likely to follow suit.
For the most part, state legislative action regarding marijuana legalization depends heavily on grassroots (no pun intended) support within the individual state. As Zadrozny cleverly puts it, "the data seems to support that if you smoke it, the laws will come."
Everything considered, experts say Alaska will be the next state to join Colorado and Washington's exclusive club.
[CNN] [CNTraveler] [The Daily Beast] [CBS News] [ABC News] [Take Part] [BuzzFeed] [Huffington Post] [Colorado State Legislature] [Washington State LCB] [U.S. Archives]
—
Matt DiCenso 
Featured image courtesy of [rafael-castillo via Flickr]