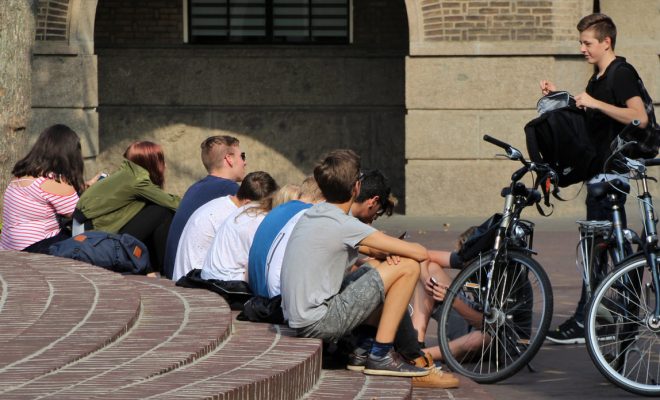 Image Courtesy of Skinny Casual Lover : License Public Domain
Cannabis in America
Legalizing Marijuana Hasn't Led to More Teen Use in Washington
By
|
Marijuana opponents have frequently argued that legalizing weed encourages more underage kids to try it as justification for why states shouldn't adopt recreational use laws. However, a new survey from the state of Washington shows that simply isn't the case.
According to a Youth Health Survey from the state of Washington, which legalized recreational marijuana in 2012 and established dispensaries in 2014, results indicated that teen cannabis consumption hasn't changed over the past decade.
The survey, which is conducted every two years, found that 26 percent of 12th graders, 17 percent of 10th graders, and 6 percent of 8th graders reported having tried marijuana over a month period in 2016–nearly the same as data collected in 2012.
Washington kids not going to pot… pic.twitter.com/iEtInnsXvc

— BreakTime (@dreamgbutterfly) March 22, 2017
A total of 230,000 Washington students from 1,000 local school in all 39 Washington counties participated in the survey as part of a collaborative effort involving the Office of the Superintendent of Public Instruction, the Department of Health, the Department of Social and Health Service's Division of Behavioral Health and Recovery, and the Liquor and Cannabis Board.
Of the students who reported using marijuana, the vast majority said they "usually smoke marijuana" instead of eating, drinking, or vaping it. The study also found that stores aren't making it any easier for students to buy marijuana, with 8th and 12th graders saying marijuana was just as accessible in 2014 and fewer 10th graders saying it was "very easy" to obtain.
The Washington Post noted that a separate study conducted in Washington found a small increase in marijuana use among 8th and 10th graders in the state, while a federal survey showed "no significant change in teenage marijuana use in the most recent period."
Overall, these findings look promising for California and Massachusetts, and other states looking to begin recreational operations soon. While AG Jeff Sessions may be worried about "marijuana being sold at every corner grocery store," this will 1) likely will never be the case and 2) not pose a particular threat to minors. With proper controls put in place, like ID verification, dispensaries can offer a sense of security to parents worried about them selling to their children. That being said, kids largely reported that marijuana is just as easy to get now as it was before the drug was legalized–legalizing it didn't change anything in that regard.