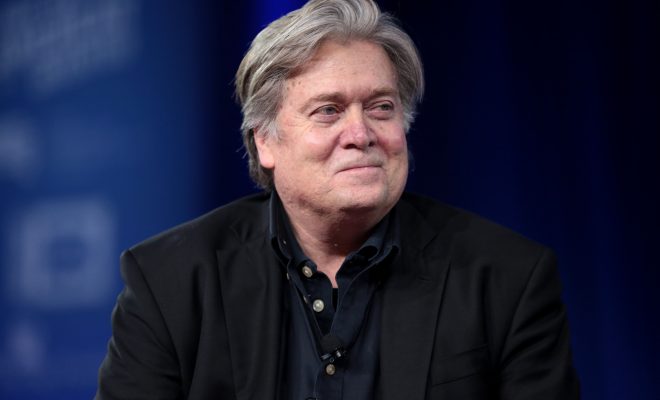 Image Courtesy of Gage Skidmore; License: (CC BY-SA 2.0)
Energy and Environment
Where Do the Trump Team and Congress Stand on the Paris Climate Accord?
By
|
A few minutes past 9 a.m. on Wednesday, President Donald Trump sent out a tweet that had much of the world on the edge of its seat:
I will be announcing my decision on the Paris Accord over the next few days. MAKE AMERICA GREAT AGAIN!

— Donald J. Trump (@realDonaldTrump) May 31, 2017
Soon after Trump posted that tweet, the New York Times reported that he is expected to pull out of the 195-nation climate pact, according to three U.S. officials. One senior official told the Times that the decision was not final, and that specifics had yet to be hammered out.
But still, if the president makes good on one of his signature campaign pledges–he said he would "cancel" the agreement–the government's commitment to combating climate change would essentially vanish–a symbolic blow that could lead other countries to withdraw.
The climate accord–an effort spearheaded by President Barack Obama and signed in Paris in December 2015–has split many of the key actors in Trump's orbit; Congress has also taken opposing sides on the matter largely, but not exclusively, among party lines.
Leading the charge to abort the accord is Steve Bannon, Trump's chief strategist. Bannon, a highly influential force in Trump's ascendance to the White House, sees it as making good on a central campaign promise. Despite reports that Bannon was losing sway with the president in recent weeks, his "don't forget who got you here" line seems to resonate with Trump.
Scott Pruitt, the EPA director, has also lobbied Trump to withdraw from the pact. In an interview on "Fox & Friends" in April, Pruitt said: "It's a bad deal for America. It was an America second, third, or fourth kind of approach."
But there are competing voices as well, with some of Trump's aides arguing to remain in the agreement or to work on re-tooling it. Secretary of State Rex Tillerson and Ivanka Trump have argued that leaving the climate deal could jeopardize relationships with allies–like Europe–and leave the U.S. in a less powerful position in setting the rules for the global climate change discussion in the future.
Tillerson is expected to meet privately with Trump on Wednesday afternoon–perhaps to deliver a final plea to remain in the pact.
Several major corporations–including oil and natural gas giants like ExxonMobil–support remaining in the agreement. Darren Woods, Exxon's CEO, recently wrote a letter to Trump, saying that the U.S., by being part of the accord, "will maintain a seat at the negotiating table to ensure a level playing field so that all energy sources and technologies are treated equitably in an open, transparent and competitive global market so as to achieve economic growth and poverty reduction at the lowest cost to society."
Congress, like the White House, is breaking along a few different fault lines–some GOP representatives and senators have urged Trump to remain in the agreement, while dozens of others have implored him to withdraw. Sen. Susan Collins (R-ME) is one of the more vocal Republican voices supporting the pact. In a letter to Trump earlier this month, co-signed by Sen. Ben Cardin (D-MD), she wrote:
Climate change is a significant environmental challenge that requires global solutions to reduce greenhouse gas pollution and to address the effects already being seen worldwide. For international climate efforts to advance, is is essential that the United States keep a seat at the table.
Lindsey Graham and Bob Corker, GOP Senators from South Carolina and Tennessee, respectively, have also argued that staying in the accord would benefit the United States. Graham recently said leaving it "would be bad for the party, bad for the country."
Other Republican senators have either remained mum on the subject, or have lobbied Trump to exit the deal. A letter sent last week to Trump, signed by 22 GOP members of the Senate, argued that remaining in the agreement "would subject the United States to significant litigation risk that could upend your Administration's ability to fulfill its goal of rescinding the Clean Power Plan," an Obama-era initiative that has yet to go into effect.
"Accordingly," the senators wrote, " we strongly encourage you to make a clean break from the Paris Agreement."