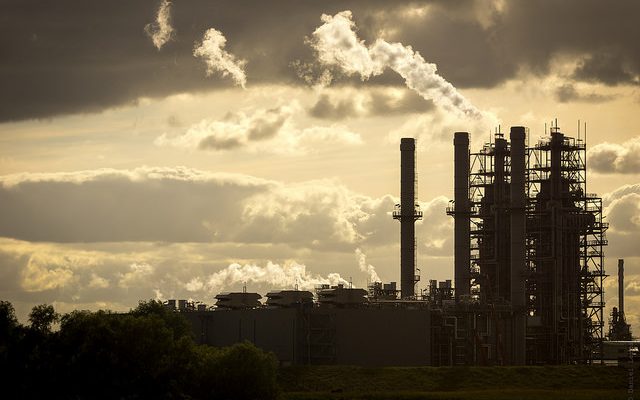 "Sunshine Pollution" Courtesy of Daniel Lerps: Licence (CC BY ND-2.0)
Energy and Environment
Ten More States Join U.S. Climate Alliance in Wake of Paris Withdrawal
By
|
Earlier this week, 10 new states joined the U.S. Climate Alliance, affirming their dedication to "aggressive action on climate change" in light of President Donald Trump's pull-out from the Paris Accord.
The Alliance now has 13 state members, including the three founding members. Governors Andrew Cuomo of New York, Jay Inslee of Washington State, and Edmund G. Brown Jr. of California formed the group to reduce emissions and continue pushing for climate change policy, according to a release on Inslee's website.
"Those of us who understand science and feel the urgency of protecting our children's air and water are as united as ever in confronting one of the greatest challenges of our lifetime," Inslee said in the release. "Our collective efforts to act on climate will ensure we maintain the United State's commitment to curb carbon pollution while advancing a clean energy economy that will bring good-paying jobs to America's workers."
The coalition announced Monday that Connecticut, Delaware, Hawaii, Massachusetts, Minnesota, Oregon, Puerto Rico, Rhode Island, Vermont, and Virginia have all joined.
In a release, Cuomo called the decision to leave the Paris Accord "irresponsible," and said that the group is committed to meeting the agreement's goals to reduce carbon emissions 26-28 percent from 2005 levels and meet or exceed the targets of President Barack Obama's landmark climate policy, the Clean Power Plan.
"We welcome these 10 new members and look forward to collaborating and maintaining the momentum in the global effort to protect our planet, while jumpstarting the clean energy economy," Cuomo said.
New York is committed to meeting the standards set forth in the Paris Accord regardless of Washington's irresponsible actions. #ActOnClimate

— Andrew Cuomo (@NYGovCuomo) June 1, 2017
Pulling Out of Paris
The U.S. Climate Alliance was formed just days after Trump announced his decision to exit the agreement, making the U.S. one of three countries worldwide that did not sign on to the Accord. The other two are Syria and Nicaragua.
The president said the 195-nation climate agreement, which was negotiated under Obama and ratified into international law last November, would hurt the U.S. economy and American sovereignty, despite opposition from members of Congress and key players in his own administration.
Since pulling out of Paris, Trump has been criticized by American politicians, world leaders, scientists, celebrities, business leaders, educators, and the public. Two high-profile members of Trump's advisory councils, Tesla and SpaceX CEO Elon Musk and Disney CEO Bob Iger, have both stepped down from their roles on the councils following the withdrawal.
Am departing presidential councils. Climate change is real. Leaving Paris is not good for America or the world.

— Elon Musk (@elonmusk) June 1, 2017
"Forging Ahead"
In addition to the 13-state climate alliance, other localized groups have formed to reaffirm the U.S. commitment to protecting the planet.
Former New York City Mayor Michael Bloomberg is bringing together hundreds of businesses, university leaders, mayors, and governors in an unnamed alliance, which had more than 1,200 signatures when the pledge closed on Monday.
Bloomberg's charitable organization, Bloomberg Philanthropies, also pledged $15 million to the United Nations Framework Convention on Climate Change, which he said the group stands to lose from Washington as a result of Trump's exit from the Paris Agreement.
"Americans are not walking away from the Paris Climate Agreement," Bloomberg said in a statement. "Just the opposite–we are forging ahead."