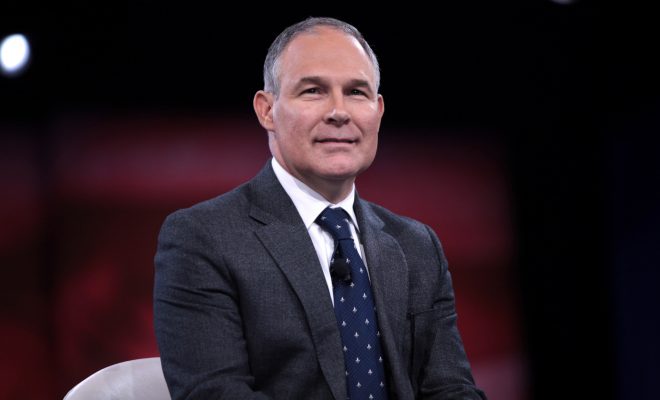 "Scott Pruitt" Courtesy of Gage Skidmore; License: (CC BY-SA 2.0)
Energy and Environment
Scott Pruitt: Trump's Choice to Lead the EPA Defends His Record of Suing the EPA
By
|
Scott Pruitt, President-elect Donald Trump's choice for the head of the Environmental Protection Agency appeared before part of the Senate for his confirmation hearing on Wednesday. Pruitt, a former attorney general of Oklahoma, said he would like to shift some regulatory control from the federal government to the states. He purported that being pro-energy and pro-environment can be mutually exclusive. And while he acknowledged that climate change and human activity are linked, he questioned just how strong that causality is.
As attorney general, Pruitt advocated on behalf of states' rights in the face of what he saw as federal overreach. In fact, Pruitt sued the EPA 14 times; he also led the 27-state lawsuit against President Barack Obama's Clean Power Plan. If he is confirmed as the next EPA chief, Pruitt could become involved in some of the lawsuits that he filed. In Wednesday's hearing, Senate Democrats asked Pruitt if he would recuse himself from those lawsuits. He did not commit to doing so.
Scott Pruitt will not say whether he will agree to upholding California's high vehicle pollution standards. That is unacceptable.

— Kamala Harris (@KamalaHarris) January 18, 2017

Sen. James Inhofe (R-OK) introduced Pruitt: "Yes, as attorney general, Scott fought the EPA, the Fish and Wildlife Service and the outgoing administration on many fronts," he said, "but all of these suits were brought to protect state and local interests from overzealous and activist agencies." Outside the hearing room, protesters, some wearing pink hats and surgical masks, others donning oil rig gear, represented the dueling sides of the hearing itself: Democrats who questioned Pruitt's ties to the energy industry, and Pruitt's long-held disdain for environmental activists and what he sees as job-killing regulations.
"We must reject as a nation the false paradigm that if you're pro-energy you're anti-environment, and if you're pro-environment you're anti-energy," Pruitt said during the hearing. In his opening remarks, Pruitt, who is often called a climate denier, clarified his stance on climate change: "Science tells us that the climate is changing and human activity in some manner impacts that change," he said. "The human ability to measure with precision the extent of that impact is subject to continuing debate and dialogue, as well they should be."
If we look at EPA's major legacy rule – CPP, WOTUS, haze, CSPAR, tailoring rule – the agency is batting 0.00. #confirmpruitt

— Jim Inhofe (@jiminhofe) January 18, 2017
Pruitt's hearing was on the same day the National Oceanic and Atmospheric Administration released a report that said 2016 was earth's hottest year on record, since at least 1880, when record keeping began. Though he made clear that the EPA under his watch would grant more power to state legislatures, Pruitt mentioned the Flint, Michigan water crisis as an instance when the federal agency failed to do enough.
"In Flint, the EPA should have acted faster. With air quality, water quality across state lines, there is a role where EPA is important," he said. Pruitt added that he does not know the science behind lead poisoning: "I haven't looked at the scientific research," he said.
In 2009, the EPA found that carbon emissions endanger humans and warm the planet. That ruling serves as the basis for subsequent emissions regulations, including Obama's Clean Power Plan. Pruitt, who Democrats worry will scrap a number of regulations, said he would enforce that ruling. "It is there, and it needs to be enforced and respected," he said. Pruitt is expected to pass a full Senate confirmation, as all 51 Republicans will likely support him; Sen. Joe Manchin (D-WV) is also expected to support Pruitt.