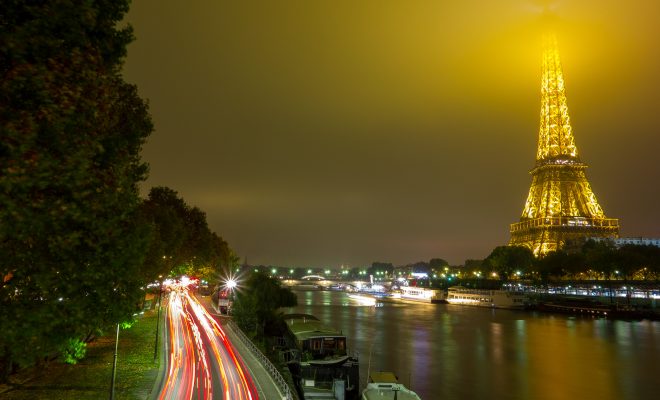 Image courtesy of Falcon® Photography; License:  (CC BY-SA 2.0)
Energy and Environment
Paris is Reusing Energy From Wastewater to Heat Swimming Pools
By
|
In Paris, officials are making use of excess heat from electrical appliances to heat up the city's swimming pools. This environmentally friendly move is spearheaded by Jean-François Martins, deputy mayor in charge of sports. He wants to make swimming pools more sustainable. Paris is in the running to host the 2024 Olympic Games, and becoming more eco-friendly would help its chances both to win the bid, and to save money in the process.
Specifically, France is utilizing the excess heat from computer servers and sewage systems. Wastewater coming from 2.2 million Parisians' sinks, toilets, washing machines, and dishwashers keep a temperature of about 55 to 68 degrees Fahrenheit. Some swimming pools are being built on top of the sewers, so that the water and waste run directly underneath the pool, where the heat gets captured through metal plates in the pipes. Then, a pump system transfers the warmth to the pool water. Next year, a start-up company is planning to install several hundred computer servers in the basement of a building with a swimming pool in the city's 13th Arrondissement. The heat generated by the servers will be captured and transferred to a boiler that warms up the water as well as locker rooms. "We wish to reduce the environmental impact and ecological footprint of these facilities, while reducing chemical product use," said Martins.
On the whole, Paris is making an effort to be progressive on climate issues. The city's mayor, Anne Hidalgo, recently announced a ban on car traffic on a two-mile stretch along the Seine. The area will be transformed into a river promenade for pedestrians and cyclists. As a part of Hidalgo's anti-pollution campaign "Paris Breathes," the plan had the support of 55 percent of Parisians, even though some on the right opposed it. Paris is actually one of the most polluted cities in the European Union and air pollution is calculated to contribute to 2,500 deaths in the inner city every year.
Décision historique au #ConseildeParis : la fin d'une autoroute urbaine à Paris et la reconquête de la Seine. pic.twitter.com/Q0TQLzuHjA

— Anne Hidalgo (@Anne_Hidalgo) September 26, 2016
Monday, December 12 marks the one-year anniversary of the adoption of the Paris agreement, the first global deal aimed at battling climate change. Representatives from 200 nations met in Paris and agreed to cut greenhouse gas emissions. President-elect Donald Trump has previously said that he will withdraw from the Paris agreement when he takes office. On Sunday he said, "nobody really knows" why climate change happens, but claimed that he is "open-minded." Both France's President Francois Hollande and its former president, Nicolas Sarkozy, reacted to the statement. Sarkozy suggested a tariff on imported American products in case Trump backs out. Hollande said: "The United States, the most powerful economy in the world, the second-largest emitter of greenhouse gases, must respect the commitments that were made. It's not simply their duty, it's in their interest."