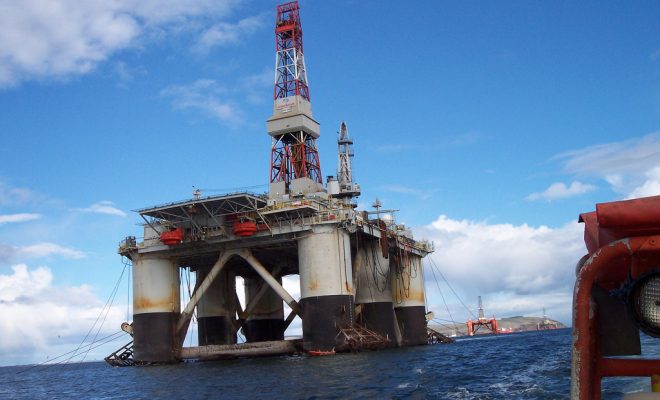 Image Courtesy of Steven Straiton; License: (CC BY 2.0)
Energy and Environment
Obama Protects Millions of Acres from Future Offshore Oil and Gas Drilling
By
|
President Barack Obama, while vacationing in Hawaii on Tuesday, used an obscure 1953 law to protect millions of acres of federally owned waters in the Atlantic and Arctic Oceans from future gas and oil drilling. With weeks left in his presidency, Obama's unilateral action could make it difficult for President-elect Donald Trump to pursue drilling in the protected regions. Existing licenses will not be affected.
Leaning on the rarely-used 1953 Outer Continental Shelf Lands Act, Obama froze fossil fuel exploration in 98 percent of federally owned waters off the coast of Alaska, totaling 115 million acres. And 3.8 million acres in the Atlantic, stretching from Norfolk, Virginia to the tip of Maine, will be restricted from further drilling. Obama's sweeping actions were in conjunction with similar moratoriums on drilling in Arctic waters off the Canadian coast by Prime Minister Justin Trudeau.
"These actions, and Canada's parallel actions, protect a sensitive and unique ecosystem that is unlike any other region on earth," Obama said in a statement. "They reflect the scientific assessment that even with the high safety standards that both our countries have put in place, the risks of an oil spill in this region are significant and our ability to clean up from a spill in the region's harsh conditions is limited."
Bold measure by @POTUS to protect the Arctic Ocean and parts of the Atlantic, (1/2)

— Al Gore (@algore) December 20, 2016
The Outer Continental Shelf Lands Act contains a clause that allows the president to "withdraw from disposition any of the unleashed lands of the outer Continental Shelf." Obama's team is confident that what the bill lacks–language allowing a president to redact any actions taken under the bill–will provide a bulwark against future drilling in the protected areas. Trump's cabinet, most notably his appointment to head the Environmental Protection Agency, Scott Pruitt, has a pro-drilling bent.
Obama, who has often used unilateral power as a means of pushing climate change action, is confident there is little Trump's team can do to erase Tuesday's move. Amending the 1953 act is one potential course of action, but doing so would require 60 votes in the Senate; Republicans hold 52 Senate seats. Environmental groups praised the new protections, while oil industry groups warned they could result in a future of oil dependence.
Congressmen were also split on the issue. Senator Ed Markey (D-MA) said the new protections "put the interests of millions of Americans ahead of those of Big Oil," while Representative Rob Bishop (R-UT), the chairman of the House Committee on Natural Resources, called Obama's actions "an abuse of power."