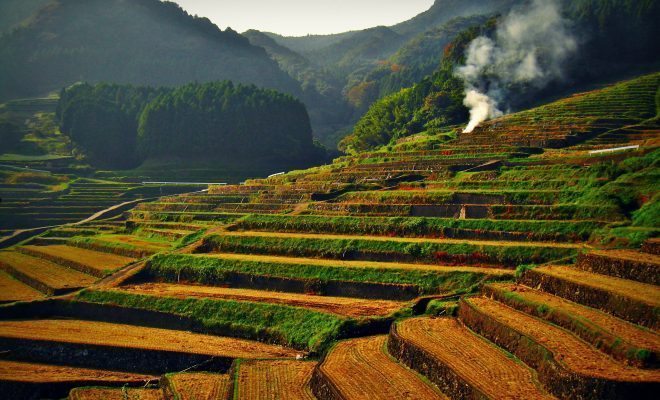 Image Courtesy of [ruma views via Flickr] 
Energy and Environment
GMO Battle: Nobel Laureates vs. Greenpeace International
By
|
It's a scuffle that pits a global non-governmental body against a formidable foe: the signatures of 110 Nobel Prize winners. The subject of debate? Genetically modified organisms (GMOs); specifically, a vitamin A enhanced grain known as Golden Rice. Last week, a cohort of past Nobel laureates–including physicists, chemists, economists, and doctors–signed a letter implicating Greenpeace International as carrying out a "global campaign to mislead consumers" about GMOs and Golden Rice.
Greenpeace is against GMOs in general, and has a section on its website dedicated to the modified grain. The group says Golden Rice is "environmentally irresponsible, poses risks to human health, and could compromise food, nutrition, and financial security." Instead, the group favors solutions that already exist in communities with high levels of malnourishment or nutrient deficiencies, namely more varied diets and community gardens.
But GMO advocates say nutrient enhanced crop varieties–along with animals that have been modified to grow faster or eradicate viruses–can help millions of people around the globe. The letter, sent by laureates from 1962 to 2015, offers a scathing diagnosis of what they see as Greenpeace's intentional sabotaging of efforts to send GMOs, like Golden Rice, to market. They wrote:
Greenpeace International has been at the forefront of these campaigns, spreading false information and fomenting unfounded fears that have led to individual and organizational [behavior] that have resulted in excessive regulatory burdens and delays.
Golden Rice was developed by German scientists 24 years ago. It has been heralded as a potentially life-saving strain, due to its high beta carotene count. Many rice varieties in Africa and Southeast Asia lack vitamin A, which leads to vitamin A deficiency (VAD). VAD can cause blindness and lead to an increased risk for infection and disease. Golden Rice has yet to hit the market, and some local anti-GMO groups in the Philippines–where the primary testing plots for the crop are located–destroyed testing sites a few years ago.
"Corporations are overhyping Golden Rice to pave the way for global approval of other more profitable genetically engineered crops," Greenpeace issued in a press release.
For all the back-and-forth, a recent study conducted by researchers at Washington University-St. Louis found that Golden Rice's issues go beyond barriers set up by anti-GMO groups such as Greenpeace. "The rice simply has not been successful in test plots of the rice breeding institutes in the Philippines," explained Glenn Stone, lead author of the study, to Washington University's student newspaper. "The simple fact is that after 24 years of research and breeding, Golden Rice is still years away from being ready for release."