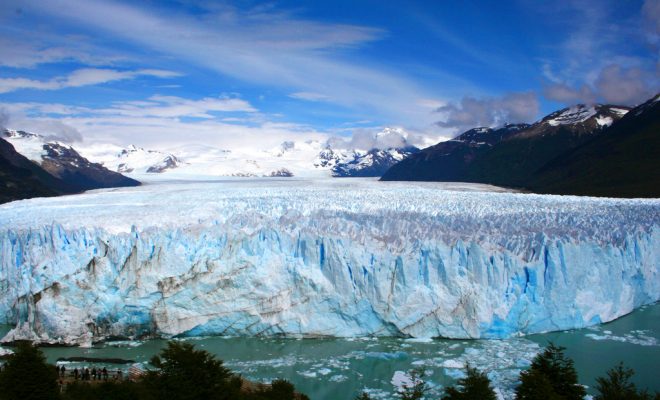 "Front view of the Perito Moreno glacier, Patagonia, Argentina" courtesy of pclvv; license: (CC BY 2.0)
Energy and Environment
Global Climate Crisis: 2016 Was the Hottest Year on Record
By
|
It's official–2016 was just named the hottest year on record. This is the third year in a row that Earth set a new record high, with average surface temperatures 1.69 degrees Fahrenheit above the 20th century average. Actually, the National Oceanic and Atmospheric Administration (NOAA) concluded that last year was the hottest year globally on both land and ocean since record keeping began in 1880. In a separate report, NASA officials also announced that 2016 was the warmest year they have on record. And if that's not enough to scare you–what climate science may look like moving forward might.
Leading up to the inauguration of a climate skeptic president and his team, the Guardian is doing a 24-hour live reporting roundup, highlighting different climate facts. According to their numbers, the president-elect's vacation home, Mar-a-Lago in Florida, will soon be in danger from floods. By 2045, a weak Category 2 hurricane could bring the seawater up to the main building. Just an hour south, the pace of the sea-level rise in Miami has tripled in the past ten years.
Many Americans have already been displaced due to climate change as they live in places that are vulnerable to rising sea levels. In August, residents in Shishmaref, Alaska, voted to move their village to avoid having their homes flooded by the sea. They had already lost 2,500 to 3,000 feet of land to coastal erosion in the past 35 years. Five out of the ten international cities that are most vulnerable to rising sea levels are American: New York, Boston, New Orleans, Tampa, and Miami.
2016 was the hottest year on record. Children are the first to suffer from the effects of #climatechange. @nytimes https://t.co/SXqecIGlv8

— UNICEF (@UNICEF) January 19, 2017
What's more? Crops in the U.S. are estimated to be cut almost in half because of the warmer temperatures. The U.S. saw 15 natural disasters caused by climate change last year, which cost the country 138 lives and over $1 billion to fix. California has had a drought for several years, and just saw some rain that may provide some relief. But experts warn that this won't end the longtime pattern of droughts, which are now just part of California's climate, and may worsen in the future. Increasing temperatures will make the ups and downs more dramatic. It also makes it difficult to replenish the snow in the mountains that supplies water during the dry periods.
The scientific community is virtually unanimous: Climate change is a global crisis requiring bold action. Rick Perry? He doesn't agree.

— Bernie Sanders (@SenSanders) January 19, 2017
Trump has talked about pulling out of the Paris climate agreement; a deal that 194 countries have signed that aims to limit the global warming to a 2 degree Celsius increase from what the average temperature was pre-industrialization. If Trump were to follow through with his promise, he wouldn't be able to pull out for three years. But many countries still worry that he could make that move. That's a problem–the U.S. historically has been the largest CO2 emitter globally. And if we don't set an example and limit our emissions, then why should other countries make the effort?
In the rest of the world there is significantly less discussion about whether climate change is "real"—the question usually tends to be "what do we do?" Even China, which was named the worst climate polluter in the world in 2006, emphasized the importance of sticking to the deal when President Xi Jinping became the first Chinese leader to speak at the World Economic Forum in Davos, Switzerland, this week.
In a 2014 survey by market research group Ipsos Mori, America has a higher population of climate change deniers than any other country that participated in the survey. And another survey by Pew Research Center showed that the number of Americans who do not believe humans have contributed to climate change is about 50 percent. The results showed a big discrepancy between the opinions of the general public and those of scientists. Alan Leshner from the American Association for the Advancement of Science (AAAS) collaborated on the survey. "It's partly a function of the American educational system that does a terrible job… at educating young people in science, math and technology," he said.