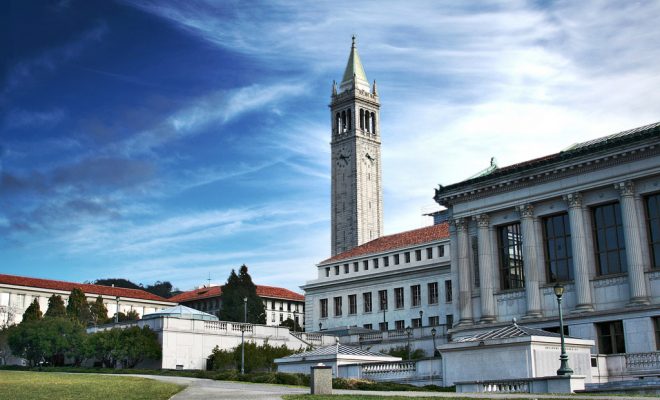 "UC Berkeley" Courtesy of Charlie Nguyen License: (CC BY 2.0)
Education
UC Berkeley Lectures Removed After Disability Discrimination Complaints
By
|
UC Berkeley used to provide thousands of free lectures and podcasts to anyone who was interested. But now, the school has decided to bar the public from accessing 20,000 videos and podcasts in response to complaints that the content did not meet the needs of vision or hearing-impaired students. Last August, the Department of Justice found that UC Berkeley had violated the Americans with Disabilities Act, which requires public universities to provide equal education access to students with disabilities.
Officials say that their decision to restrict access to the videos will allow them to focus their resources on creating newer and more accessible material. In a statement, the university's vice chancellor for undergraduate education Cathy Koshland said:
This move will also partially address recent findings by the Department of Justice which suggests that the YouTube and iTunesU content meet higher accessibility standards as a condition of remaining publicly available. Finally, moving our content behind authentication allows us to better protect instructor intellectual property from 'pirates' who have reused content for personal profit without consent.
The DOJ's review, prompted by complaints from two Gallaudet University employees and members of the National Association of the Deaf, found incomplete or inaccurate closed captioning on videos that would pose challenges for those with hearing disabilities. Low color contrast in some videos would make them difficult to watch for vision-impaired viewers as well.
Berkeley isn't the only institution where lectures have presented difficulties for disabled students. Two years ago, Harvard University and M.I.T. both faced discrimination lawsuits from advocates for the deaf for not including closed captioning on their online lectures.
But other universities say that removing content altogether isn't the answer. Inside Higher Ed reached out to the University of Minnesota, M.I.T., Georgia Institute of Technology, Stanford University, and the University of Texas at Austin, almost all of which replied that their lectures meet accessibility standards and that they have no intentions to keep the public from viewing their content.
But the UC Berkeley videos are not lost forever, thanks to one website's decision to make them available to the public again starting in April. LBRY, a "digital marketplace" where users can publish their content and set a price for other users to view their content, announced the site would re-publish the lectures and make them viewable for free.
LBRY CEO Jeremy Kauffman wrote that uploading the files would be legal because they are under a Creative Commons license that permits non-commercial redistribution with attribution. This means LBRY will not charge for the access to the material or make a profit, and will give credit to UC Berkeley. He told UC Berkeley's campus newspaper, The Daily Californian, that he is open to collaborating with someone who could add subtitles to the videos that LBRY will publish.
"What motivated our community is that we saw information disappearing that shouldn't disappear, and our technology is designed to keep information around," he told the paper.