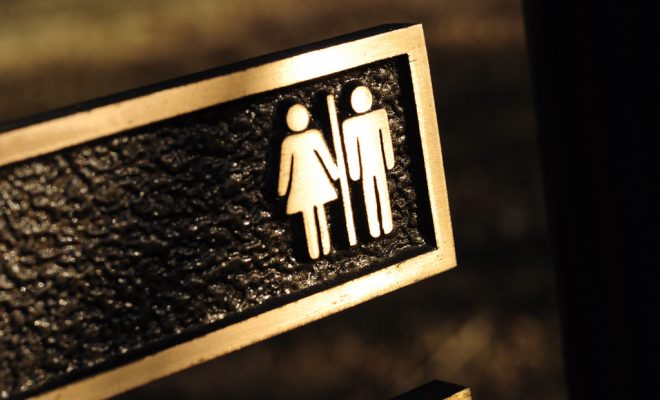 Image Courtesy of amboo who?; License: (CC BY-SA 2.0)
Education
Trump Administration Reverses Federal Transgender Protection Rules
By
|
The Trump Administration announced Wednesday that it will  reverse federal protections for transgender students in public schools, citing federal overreach. A letter jointly released by the Education Department and the Justice Department effectively leaves it up to individual schools to decide whether transgender students can use the bathroom that aligns with the gender they identify with.
The heads of the two departments that issued the letter, Education Secretary Betsy DeVos and Attorney General Jeff Sessions, were reportedly at odds over rescinding the previous rule, which was instated by former President Barack Obama last May. According to Republicans with direct knowledge of the discussions, Sessions wanted to rollback the protections, while DeVos wanted to keep them because she worried about the potential harm it could cause transgender students.
The Attorney General needed DeVos to sign on to his directives, but she would not. Therefore Sessions took the matter to the White House where, in the Oval Office on Tuesday, he, DeVos, and President Donald Trump discussed what direction the administration would take. Trump sided with Sessions and told DeVos that she had a choice: agree or resign. She agreed.
The Obama Administration's previous directive was enacted "without due regard for the primary role of the states and local school districts in establishing educational policy," said the Education Department and Justice Department letter.
Reportedly at the urging of DeVos, the letter included a passage encouraging the protection of all students. "All schools must ensure that students, including L.G.B.T. students, are able to learn and thrive in a safe environment," the letter said. 
Obama's directive had not gone into effect–even before Trump rescinded it–because of two pending battles in federal courts. Last August, a federal district court in Texas issued an injunction on Obama's order, blocking it from being implemented.
Judge Reed O'Connor, the presiding judge in that case, said the federal order put states "in the position of either maintaining their current policies in the face of the federal government's view that they are violating the law, or changing them to comply with the guidelines and cede their authority over this issue."
Wednesday's announcement brought hundreds of protesters to the front of the White House, where they chanted: "No hate, no fear, trans students are welcome here." Civil rights advocates also decried the new directive.
The rollback also prompted Jackie Evancho, the "America's Got Talent" runner-up who sang the National Anthem at Trump's inauguration, to tweet at Trump on Wednesday to ask the president to meet with her and her transgender sister to discuss transgender rights.
. @realDonaldTrump u gave me the honor 2 sing at your inauguration. Pls give me & my sis the honor 2 meet with u 2 talk #transgender rghts ❤

— jackie evancho (@jackieevancho) February 23, 2017

"This is a mean-spirited attack on hundreds of thousands of students who simply want to be their true selves and be treated with dignity while attending school," said Mara Keisling, executive director of the National Center for Transgender Equality in a statement.
In a separate statement DeVos said that issuing statutes regarding school policy is a state-level issue, and that the Education Department "remains committed to investigating all claims of discrimination, bullying and harassment against those who are most vulnerable in our schools."
"We owe all students a commitment to ensure they have access to a learning environment that is free of discrimination, bullying and harassment," wrote Devos.