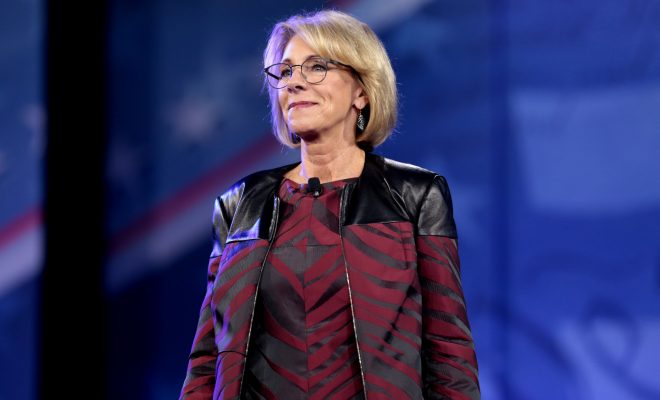 "Betsy Devos" Courtesy of Gage Skidmore; License: (CC BY-SA 2.0)
Education
Trump Orders Betsy DeVos to Review DOE Regulations
By
|
President Donald Trump on Wednesday ordered a review of the federal government's control over education policies and regulations. It is the president's latest attempt to grant more flexibility over education policy to the states, a position his Education Secretary, Betsy DeVos, shares.
Wednesday's executive action instructs DeVos–an advocate for school choice–to conduct a review of the Department of Education's regulations and guidance documents. Within 300 days, her findings will be published in a public report.
"For too long, the federal government has imposed its will on state and local governments," Trump, whose 100th day in office is on Saturday, said at a press conference on Wednesday. "The result has been education that spends more, and achieves far, far, far less."
The purpose of the order is "to protect and preserve State and local control over the curriculum, program of instruction, administration, and personnel of educational institutions, schools, and school systems, consistent with applicable law." According to an Education Department official, the review will concentrate on K-12 institutions.
DeVos is a staunch backer of school vouchers, charter schools, and private education institutions. Her critics worry she will funnel resources away from public schools–many of which already suffer from a lack of funding–to vouchers and other avenues for boosting school choice.
In an interview with The New York Times, DeVos, who also opposes the Common Core curriculum, called Trump's executive action a "welcomed opportunity." The order, she said, is "a clear mandate to take that real hard look at what we've been doing at the department level that we shouldn't be doing, and what ways we have overreached." She added: "And when it comes to education, decisions made at local levels and at state levels are the best ones."
But not everyone thinks diminishing the federal government's role in education is for the best. In a statement, Wade Henderson, president and CEO of the Leadership Conference on Civil and Human Rights, called the order "dangerous and wrongheaded." Henderson added: "State and local primacy without federal oversight in America's schools has never worked for all children and will not work now."