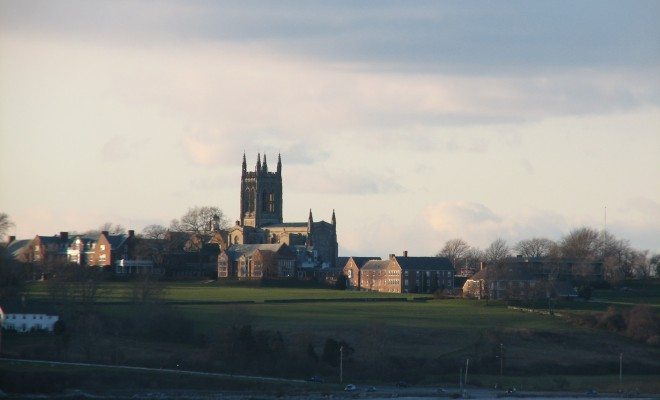 Image courtesy of [Lara via Flickr]
Education
St. George's: Sex Abuse Scandal Rocks a Rhode Island Town
By
|
Schools have become a frightening place for parents to send their children. From the horrors of lives lost at Sandy Hook Elementary, to those mourned at Columbine, to the controversies faced with "No Child Left Behind" and the Common Core curriculum, there's now the terror that the people who take care of and teach our children could sexually abuse such innocent and unsuspecting lives.
On December 23, 2015, St. George's School, an elite Newport, Rhode Island prep school unveiled an investigative report recognizing that 26 credible witnesses/individuals have come forward "strongly suggesting" that there were six perpetrators, who were employees of St. George's School, that "engaged in sexual misconduct" with a number of students. Firsthand accounts and corroborating evidence depict that there were a total of 23 victims. The scope of the scandal has greatly increased since the release of the report, as a rising total of at least 40 St. George's alumni have since come forth with credible accounts of sexual misconduct, even allegations of rape, by a total of seven St. George employees.
While St. George's sincerely apologized to the victims in the report it released and offered immediate counseling to the individuals that underwent traumatic events as a result of unreported sexual misconduct spanning several decades, victims demanded more. Some of the victims viewed the investigation conducted by St. George to be "a sanitized version of events and said it was not truly independent because it was conducted by a lawyer, Will Hannum, whose partner is the school's counsel." As such, a new, comprehensive, and independent investigation will be conducted into the allegations of sexual misconduct–it was just announced that Scott Harshburger, a former Attorney General of Massachusetts, will be the investigator.
The discrepancies in the total number of victims, as well as the number of perpetrators, suggest that there could be unchecked allegations pertaining to the longstanding reporting of the alleged incidents. Leslie Heaney, a 1992 graduate of St. George and current chairwoman of the school's board of trustees stated, "the board is committed to a truly impartial investigation. There is nothing more important to us than that the review be thorough and exhaustive, and that its findings are found to be reliable and credible by all parties, particularly the victims."
Reports suggest that the sexual misconduct took place from 1974-2004. Of the seven former St. George's employees reported to have been involved in sexual misconduct, only four are still alive. Furthermore, the misconduct resulting in the termination of each former employee was allegedly never reported to any authorities nor were potential future employers, other schools and educational settings, warned about the sexual misconduct against minors done at the hands of the perpetrators that they potentially hired. The victims' attorneys have noted that the Massachusetts legislature is currently considering what is known as the "pass the trash" bill–which refers to the practice of passing on teachers that have been terminated or dismissed for inappropriate conduct and behavior unbecoming of a professional in an education setting without reporting such problems and potentially putting others in jeopardy. The bill would work to criminalize a failure to report a complaint of sexual misconduct in private and public schools–maybe it would be worth considering a similar act in other states.
Victims are calling for the head of the school, Eric Peterson, to resign. They believe that he has played a part in covering up the incidents and being quite unresponsive to the complaints made against St. George's former employees. However, the school has indicated that Peterson will not resign or be required to resign, that he has greatly supported the "vigorous investigation of alleged sexual abuse," and has been very compassionate and empathetic toward all of the victims that have come forward about with allegations of sexual misconduct.
Sexual abuse of children in the education system, particularly in private schools that have the discretion to report such misconduct, is becoming the boogeyman of primary education concerns as media coverage of such incidents continues to increase. Even more frightening is the fact that the perpetrators of sexual misconduct of students and children tend to be individuals either employed or associated with schools–i.e. teachers, coaches, student aides and workers, as well as administrative staff. Additionally, state legislatures' decisions can create very unsettling gaps in protection from sexual misconduct against students. For example, in New York State, where there are approximately 2,161 private schools attended by over 492,000 children, private school students are excluded from the State's Education Law 23-B, entitled "Child Abuse in an Educational Setting" which only applies to public and charter schools, leaving private school students subject to sexual misconduct abuses without protection. Various organizations have taken on lobbying efforts to raise awareness of such gaps and mend the system to include private school students in the states that exclude such students from their laws.
The issue of sexual misconduct in a school setting has taken center stage in the media as the new, comprehensive investigation gets underway for St. George School. As the investigation continues and potential victims continue to come forward, St. George School will be under a microscope to see how the situation is handled and how schools in general react to their findings in providing greater protections for students. All we can do is wait to see how the tragedy in Rhode Island plays out, hope that justice is served for all victims who suffered great trauma due to the horrendous acts of school employees, and rally for a change in school policies relating to sexual misconduct and the protections offered to students.