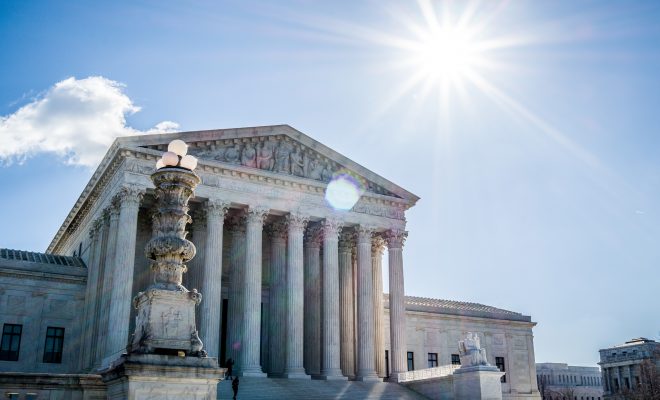 Image Courtesy of Phil Roeder; License: (CC BY 2.0)
Education
Supreme Court Rules in Favor of Special Education Rights
By
|
Public school districts are obligated to provide students with disabilities a chance to make "appropriately ambitious" progress, the Supreme Court unanimously ruled on Wednesday. The case, Endrew F. v. Douglas County School District, could have widespread implications when it comes to how educators treat special education students moving forward–as children with the right to advance in the classroom.
"It cannot be right that the IDEA generally contemplates grade-level advancement for children with disabilities who are fully integrated in the regular classroom, but is satisfied with barely more than de minimis progress for children who are not," Chief Justice John Roberts wrote in a unanimous opinion, using the acronym for the Individuals with Disabilities Education Act, which guarantees free public education for students with disabilities.
The plaintiff, Endrew F., has autism. In 2010, his parents determined that his public school was not providing him with a sufficiently rigorous education. They removed Endrew from public school and enrolled him in a private school, Firefly Autism House. After spending two years at the private school, Endrew's parents sought reimbursement for his private school tuition with the Colorado Department of Education. That request was denied by an Administrative Law Judge, but the case moved forward.
A Federal District Court later ruled in favor of the school district; the Tenth Circuit Court of Appeals affirmed that decision. Wednesday's decision vacates the lower court's ruling. According to the National Association of State Directors of Special Education, which filed a brief for Endrew F. v. Douglas County School District, "public school educators across the nation have regularly set high expectations for and provided meaningful educational benefits to students with disabilities."
The brief continued: "Decades of research and experience establish that the education of children with disabilities is enhanced by placing high expectations on these children – tailored to their individual abilities and potential – in order to prepare them to be college- and career- ready and to lead productive and independent adult lives."
The 8-0 decision came as Neil Gorsuch, President Donald Trump's Supreme Court nominee, is on the third day of his confirmation hearings. Gorsuch has been involved in over ten cases involving students with disabilities. In eight he sided with the school district. In today's hearing, Sen. John Cornyn (R-TX), asked Gorsuch about his pro-school district record on cases like the Endrew. "I was wrong, Senator, because I was bound by circuit precedent, and I'm sorry," he said.