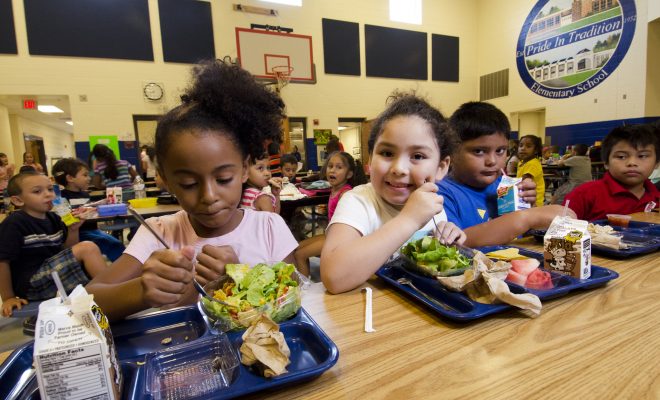 Image courtesy of U.S. Department of Agriculture; license: public domain
Education
New USDA Guidelines Seek to End "Lunch Shaming" of Students
By
|
For years, schools have had different ways of shaming children to force their parents to pay for their school lunch. This act of holding a kid responsible for their parents' inaction is referred to as "lunch shaming." It can range from throwing the food away to branding kids with markers. The practice leaves children hungry, wastes food, and could have longtime psychological effects. But now schools have a deadline to set their policies for how to deal with unpaid lunch bills.
Caitlin Dolan discovered she had an unpaid food bill from the previous school year on her first day of seventh grade last fall. The cashier simply threw her food away in front of her friends. "I was so embarrassed. It's really weird being denied food in front of everyone. They all talk about you," she told The New York Times. And that is only one example. According to a study by the Department of Agriculture, nearly half of school districts in the country used some kind of shaming to pressure parents to pay.
Parents who don't pay lunch bill are lamentable. Schools that shame kids are despicable. Surely we can solve this.https://t.co/pOhtSB6ilD

— Peter Cunningham (@PCunningham57) May 1, 2017
Last June, a school in Alabama stamped a boy with the words, "I need lunch money." His father, Jon Bivens, said the school normally would email him when their son's account ran low, not "brand" him. "They herd these kids like cattle," Bivens said. In Texas in 2013, cafeteria staff took a little boy's breakfast and dumped it in the trash–because he owed 30 cents.
Last September, a cafeteria worker in Pennsylvania posted a Facebook status saying she resigned after allegedly being forced to take food from a little boy because he had an unpaid bill. Some students with meal debts are forced to give back their hot meal. Instead, they get a piece of white bread with one slice of cheese. "If you didn't eat the lunch, they were just going to throw it away," said Oliver Jane, a student from Kansas whose hot meal was taken away because of a meal debt.
According to Kevin W. Concannon, the USDA's under secretary for food, nutrition and consumer services in the Obama Administration, this behavior has been going on for decades. It was not until the update of school nutrition standards in 2010 that the department heard about how widespread this problem was. Then last summer, the USDA decided that states should handle meal debts locally. In March, the department issued a deadline for states to have a policy in place on how to deal with it, but did not prohibit the shaming practice.
We have billions to spend on missiles & drones but can't even feed kids in public schools. Lunch shaming is a terrible practice. https://t.co/P6HiUe9NV9

— Simar (@sahluwal) April 16, 2017
However, the guidelines from the USDA do say that schools need to make sure their policies "do not have a negative impact on the children involved," and instead should focus on the parents or adults that are responsible for the kids' finances.
In April, New Mexico became the first state in the country to outlaw lunch shaming. The Hunger-Free Students' Bill of Rights applies to all schools in the state that receive federal subsidies for school meals. It states that schools should cooperate with parents to pay the debts, or sign them up for federal meal assistance.
Although unpaid meal bills could amount to large sums for individual schools, and parents that have the financial means to pay for their kids' lunch should do so, most people agree that the children are the victims. No one wants to take food from a child, and not getting enough nutrition affects the brain's ability to learn. A federal program for free meals for all students could be a solution. Either way, hopefully more states will follow New Mexico's example.