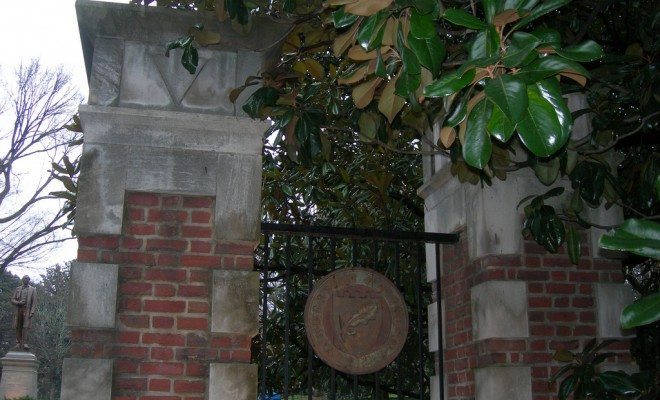 "Vanderbilt University Gates" courtesy of [Jimmy Emerson, DVM via Flickr]
Education
Deja Vu: Former Vanderbilt Football Player Found Guilty of Rape
By
|
April is sexual assault awareness month. And on Friday, one of the four former Vanderbilt football players involved in the infamous Vanderbilt rape case from June 2013 was retried alone. After nearly three hours of deliberations, the jury came to their conclusion and justice was timely served this awareness month. The jury found Corey Batey, a 22-year-old former Vanderbilt football player, guilty of aggravated rape and aggravated sexual battery.
According to a Washington Post poll conducted last year, 25 percent of women and 7 percent of men are victims of "unwanted sexual incidents" while in university. The Washington Post conducted the poll last year by telephone, which surveyed 1,053 women and men undergraduate students at a four-year college, between the ages of 17 to 26, living on campus or nearby. Sexual assault was defined as five different types of "unwanted contact: forced touching of a sexual nature, oral sex, vaginal sexual intercourse, anal sex and sexual penetration with a finger or object." Using that definition specifically, "5 percent of men and 20 percent of women said they had been sexually assaulted in college."
With sexual assaults on college campuses increasing and becoming an issue that needs to be addressed more urgently than ever, more colleges are joining the effort to put an end to sexual assault each year and are implementing "mandatory sexual assault awareness programs." In addition to these mandatory awareness programs, "many universities have joined President Obama's "It's On Us" campaign, which is a nation-wide promotion aimed at putting an end to sexual assault on college campuses." Though universities are showing a commitment to effectively address the issue of sexual assault on campuses, there are been results that indicate that these programs are not yet working. This last fall, Indiana University invited more than 7,000 undergraduate and graduate students to take a survey about their perceptions and experiences with sexual assault. It found:
Twenty-nine percent of the undergraduate women reported experiencing some form of nonconsensual sexual touching while at IU […] 35 percent of the undergraduate women and 34 percent of the graduate women reported being the victims of some form of sexual harassment while at IU […] and, 86 percent of the undergraduate women and 85 percent of the graduate women participants who reported experiencing some form of nonconsensual sexual contact did not report the incident to anyone at IU.
As these findings are similar findings with studies conducted at other universities, an answer on how to solve the epidemic of sexual assault on campuses remains to be solved. Hopefully, this recent court ruling against Batey will influence sexual assault victims to speak up and encourage universities to continue to make efforts with protecting and creating a safe space for sexual assault survivors, and putting an end to this horrendous crime for good.