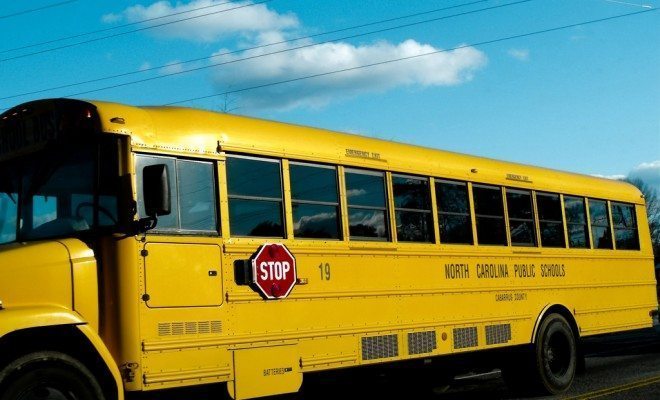 "NC School Bus" courtesy of [Dale Moore via Flickr]
Education
Americans with High School Diplomas Don't Have Same Level of Skills as International Peers
By
|
A new study confirms the fears of those who criticize the United States' education system–we're lagging behind. A Program for the International Assessment of Adult Competencies (PIAAC) study by the Department of Education compares workers' skills in various developed countries to the U.S., and discovered that Americans perform particularly poorly in basic reading, math, and technology skills. In fact, in some cases the results of our high school graduates were about on par with peer nations' high school dropouts.
The PIACC tests adults' skills over four areas. According to the report:
PIAAC defines four core competency domains of adult cognitive skills that are seen as key to facilitating the social and economic participation of adults in advanced economies: literacy, reading components, numeracy, and problem solving in technology-rich environments.
In the U.S., literacy skills overall were average, compared to other nations. But young people with a high school diploma or less scored well below average. Similar results held true on math tests–Americans who had high school diplomas were about on par with  high school dropouts in other nations. When technology skills were tested–things like using an email, naming a file on a computer, or buying and returning things online–Americans came in dead last.
Japan and Finland scored in the number one and number two spots in all three measures. Other nations consistently topping the charts included the Netherlands, Sweden, Norway, and Belgium.
The fact that Americans who only had high school diplomas or less fared so poorly in comparison to individuals from other nations is particularly troubling given how expensive a college education is today. Students who aren't able to afford college, or do not wish to go to college, should still be able to depend on their required 12 years of schooling to help them acquire the skills needed to be an active part of the American workforce. But according to the PIAAC, that simply does not appear to be the case. As Peggy Carr, the acting commissioner of the government's National Center for Education Statistics, stated: "clearly, we have some work to do in this country."