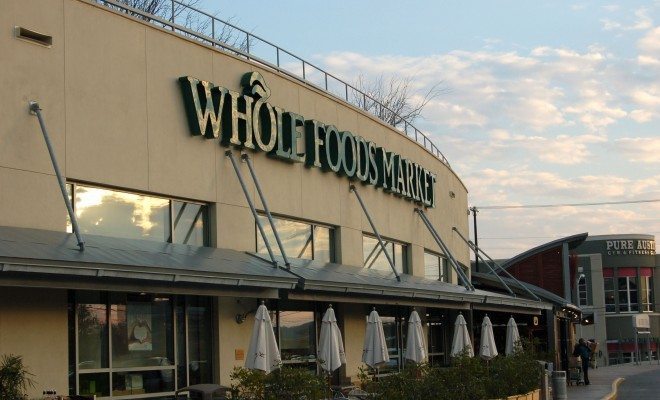 Image courtesy of [That Other Paper via Flickr]
Society and Culture
Whole Foods Shoots Down Claims of Homophobia Against Openly Gay Pastor
By
|
A pastor who accused Whole Foods of anti-LGBTQ discrimination is now facing accusations and a lawsuit against him alleging that he made up the entire incident.
Jordan Brown, an openly gay pastor at the Church of Open Doors in Austin, Texas, filed a lawsuit against Whole Foods after he allegedly received a cake at the chain's flagship Austin location on April 14 with an anti-gay slur written on it. While he requested that the bakery write "Love Wins" on top of the cake, he claims that the bakery associate decided to add homophobic language to it:
LOVE WINS FAG. That's not the cake I ordered, @WholeFoods and I am offended for myself & the entire #LGBT community pic.twitter.com/cuxuv6mL3G

— Jordan D Brown (@PasJordanBrown) April 18, 2016
Brown's suit alleges that he didn't notice the writing until he was on his way home, and proceeded to pull the car over and call the corporate office to report what had happened. After he didn't receive a response, he then called the store itself and received an apology from a Team Leader who promised to investigate the matter. However, a few hours later, he received a call back from the same employee who said that there appeared to be no wrongdoing on the part of the store or the bakery associate.
Brown proceeded to post a now-deleted video that same day in which he tearfully recounted the incident. He also pointed out that the seal on the box hadn't been broken, as evidence that he hadn't tampered with the cake.
On Tuesday, Whole Foods responded in a statement that shot down Brown's accusations as "fraudulent." The company also released security footage that pointed to the fact that Brown would have easily been able to see the writing through the clear portion of the packaging before he left the store. The company also stated that the bakery associate in question was a member of the LGBTQ community. As of publication, Brown hadn't yet responded to the latest statements by Whole Foods.
If it turns out that Brown was faking the incident after all, he made a strange choice in choosing which company to go after. Whole Foods has a history of upholding LGBTQ rights as a company, offering benefits to same-sex partners since its founding and participating in pride parades. The company also reinforced its support for LGBTQ rights in its latest statement, posting a photo of its Austin staff with the caption #LoveWins.
The jury's still out on whether or not Brown was making this up, but this response by Whole Foods is just the icing on the cake for anyone doubting his story. Stay tuned for updates.