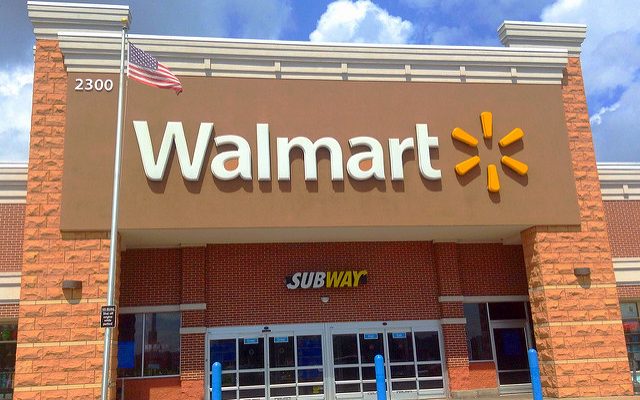 "Walmart" Courtesy of Mike Mozart : License (CC BY 2.0)
Society and Culture
White Lady's Racist Walmart Tirade is Nothing New
By
|
Are there more racists in the world, or have they just gotten ballsier? I asked myself this question as yet another cellphone video went viral. This one captured a white woman racially abusing two women inside of an Arkansas Walmart.
Eva Hicks posted a video of the confrontation to her Facebook profile Monday, in which a white woman in a teal shirt tells Hicks to "go back to Mexico." Hicks, a Latina, tells the woman she was trying to reach the medicine on the shelf behind the woman's cart and that she said "excuse me."
The woman continues on a xenophobic rant, before another shopper tells the woman to "stop being ignorant." The white woman replies, "A n****r is calling me ignorant?"
"Yes," the black woman responds. "All this go back to Mexico and all that stuff, yes, absolutely."
About halfway through the video, a manager at the Bentonville store intervenes and tries to resolve the conflict before telling the white woman she needs to leave because she's being "inappropriate."
When Hicks begins sobbing behind the camera, the white woman mocks her.
Latino woman needs medicine, says "excuse me" @WalMart to get it. White woman tells her to leave America then calls another woman "nigger" pic.twitter.com/l7j5YBTlWP

— Shaun King (@ShaunKing) May 23, 2017
The video went viral on Twitter after activist and New York Daily News writer Shaun King tagged the company in a tweet demanding that the woman be banned "from this store for life."
Walmart is currently trying to identify the woman, and says she will be banned from all of its stores, according to NBC News.
@ShaunKing @Walmart @ShaunKing, we agree that this cannot be tolerated and are continuing to look into the matter. Below is our official statement: pic.twitter.com/BkKKVDrjE6

— Walmart Newsroom (@WalmartNewsroom) May 23, 2017
The incident is merely the latest in a string of xenophobic rants caught on tape in recent months.
On Monday, a video surfaced of a white woman in Virginia calling a Hispanic man a "sp*c" and telling him to "take his f*cking a** back to Mexico."  Last weekend, a white man in a wheelchair at a Reno airport was filmed calling another passenger a "sp*c" and a "piece of sh*t" for speaking Spanish to his mother. The list goes on and on.
So back to my question–are there more racists in the world, or have they just gotten ballsier?
The presidential election certainly fanned racism and Islamophobia throughout the country; many of these incidents feature President Donald Trump's signature campaign slogans–like "build the wall." But it could also just be that we're getting better at capturing and sharing racist incidents.
People are quick to take out a cellphone and hit record to these capture brazen racists and upload the videos to social media. From there they are easily liked and shared, garnering millions of views and hundreds of thousands of responses.
The Southern Poverty Law Center catalogued 1,094 bias-related incidents in the month following the election. While this number has reduced drastically in the subsequent months, it is nonetheless heartbreaking.
Also, did anyone else notice that many of these confrontations appear to take place in store checkout lines? It could be just a coincidence, or indicate a trend of where people are feeling their most brazen.