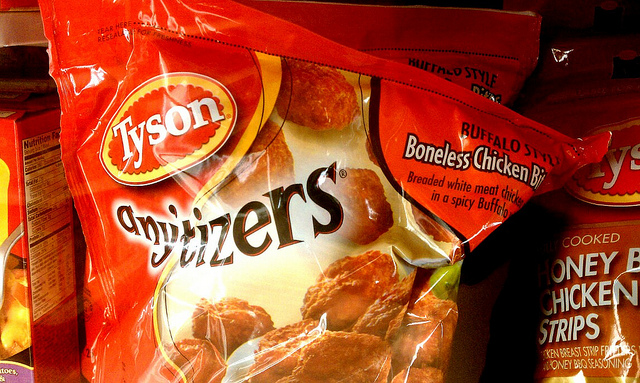 Any'tizers Courtesy of [Quinn Dombrowski via Flickr]
Society and Culture
Undercover Video Prompts Tyson to Retrain Chicken Plant Workers
By
|
Tyson Foods has found itself in a public relations nightmare after an animal rights group posted an undercover video Thursday showing live chicken handlers at three of the company's Virginia facilities shamelessly abusing chickens.
In the video below, undercover activists with Compassion Over Killing captured workers choking, punching, and kicking chickens, among other startling abuses.
Warning: This Video Contains Graphic Content
At one point in the video, a worker warns another standing on a chicken's head that they could be filmed by animal rights activists. "You can't let nobody see you do that," he says. "They'll take you to court for that."
In another part of the video, workers are seen throwing chickens to the ground after carelessly jamming them with needles. "Makes you don't want to eat them," one says. "I'm just saying with all this sh*t going in them."
Christine Daugherty, Vice President of Sustainable Food Production for Tyson Foods, called the workers actions "disgusting."
"The people shown in the video by Compassion Over Killing were all trained in proper animal handling, yet chose to ignore it and failed to alert management about the despicable treatment on these farms, said Daugherty. "Animals in our care deserve to be treated humanely."
The company says it has fired ten of its employees and is making a pledge to retrain all of its workers who handle live birds.
Tyson Foods also tweeted out a formal response to the Virginia farm video echoing Daugherty's sentiments.
We're disgusted by a video showing improper treatment of birds.
Here's what we're doing about it: https://t.co/1vqQKMyUMV

— Tyson Foods (@TysonFoods) August 11, 2016

Tyson, which is the world's largest chicken processor, made $10 billion last year selling poultry.
According to USA Today,
The latest video marks at least the fifth time in roughly 13 months that advocates for various animal rights groups have been able to infiltrate Tyson-connected facilities and secretly record footage of workers abusing chickens and cramped living conditions for chickens before they are slaughtered. The activists typically apply for work at the facilities and are able to surreptitiously record the footage.
After watching the video, some users on Twitter have publicly sworn off the brand.
After seeing this, I will never buy Tyson. Those fired employees are sick, and should be prosecuted. #TysonChicken https://t.co/BVQ55WnoY3

— Amanda Bolliger (@BollzyMouse) August 12, 2016
That video of the Tyson workers is literally why I don't eat chicken or turkey or eggs, I'm so sad for the poor babies

— ️ (@luvgrim) August 12, 2016
@TysonFoods I WILL NEVER BUY FROM YOU! https://t.co/KQnGtCdM5K

— Monie (@shamone_moore) August 12, 2016
It's good to see the company immediately taking action to address the clear violations in the video, however, there is still a possibility it could face further repercussions following an investigation into the footage.