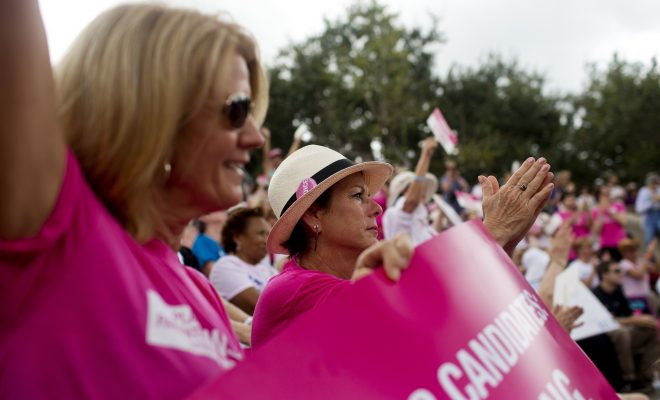 Image courtesy of PBS NewsHour; license: (CC BY 2.0) 
Law
Anti-Abortion Activists Who Secretly Filmed Planned Parenthood Charged with Felonies
By
|
The two anti-abortion activists who secretly filmed conversations with staff members and doctors from Planned Parenthood are now facing felony charges in California. David Daleiden and Sandra Merritt recorded their conversations with various people associated with the organization in 2014 and 2015, using a hidden camera, to expose what they claimed to be a plot by Planned Parenthood to sell fetal material.
Now California Attorney General Xavier Becerra has announced that the two activists violated state law by filming people without their consent. Daleiden expectedly called the charges "bogus" and "fake news" in a statement on his organization's website, the Center for Medical Progress. But his theory that Planned Parenthood is "harvesting" and selling fetal tissue for profit has been debunked in more than a dozen states where investigations have been conducted.
Back in 2015, Daleiden and Merritt tried to prove that Planned Parenthood was committing a crime by selling fetal tissue. But representatives from the organization said that the videos were heavily edited and taken out of context. Also, the organization only donates tissue for scientific research–always with the patients' full consent–and gets reimbursements for expenses.
Anti-abortion propagandist filmmakers @daviddaleiden, Sandra Merritt charged with 15 felonieshttps://t.co/DLFiG5CH0Q pic.twitter.com/MpRniSu7dq

— WarOnWomen (@WarAgainstWomen) March 29, 2017
A Texas grand jury found that Planned Parenthood had done nothing wrong, but found that Daleiden and Merritt used fake drivers licenses to gain access to a Planned Parenthood meeting. Daleiden was also charged with a misdemeanor for trying to buy human tissue, which is ironic since that was the crime he was trying to accuse Planned Parenthood of. Those charges were dismissed. But the California felony charges are related to the secret filming and total 15 each–one count per person they secretly filmed, and one count of conspiracy.
And there's more bad news for the two–on Wednesday, a federal appeals court blocked the release of more videos by their group. Daleiden called that decision an attack on the First Amendment. "CMP will continue to fight this unconstitutional abuse of power and vindicate our First Amendment rights and those of all citizen journalists to speak and publish on matters of urgent public concern," Daleiden said.
But the National Abortion Federation said that the release of the videos would put its members at risk, which is not far-fetched to think. Last January, Planned Parenthood sued the Center for Medical Progress, claiming that the release of the heavily edited and misleading videos caused a dangerous environment for its employees. Many Planned Parenthood employees have received threats, and in 2015 there was a shooting at a Planned Parenthood clinic in Colorado that left three people dead.