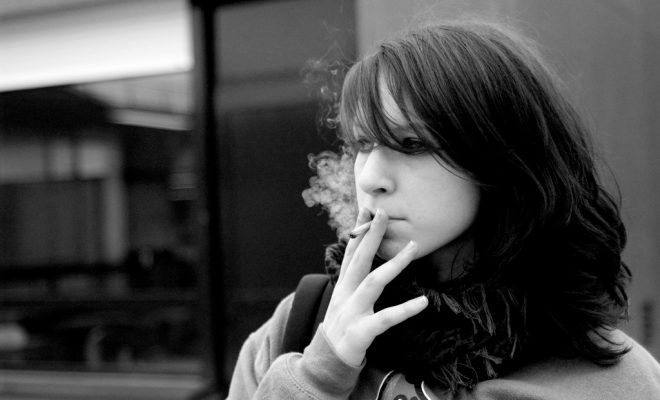 Image [Courtesy of Valentin Ottone via Flickr]
Society and Culture
Less Sex, Less Drugs: Today's Teens Historically Cautious, New Study Finds
By
|
A study published on Thursday from the Centers for Disease Control and Prevention (CDC) revealed two historic lows regarding the behavior of American teens: sexual engagement and cigarette use. On average, teens are having less sex than ever before and smoking fewer conventional cigarettes than their parents' and grandparents' generations, though the proliferation of electronic cigarettes has muddled the overall picture of nicotine use.
Among the findings of the National Youth Risk Behavior Survey–which consists of data from 2015, and polled 16,000 students from 125 public and private schools across the country–is that teens are engaging in less sex. Forty-one percent said they have had sex, down from six percent from last decade. Thirty percent said they'd had sex within the previous three months, a three to four percent decline from surveys taken throughout the last decade.
Experts are flummoxed as to why sexual activity has dropped. Some attribute it to increased computer and video game use, others point to sex as being less of a taboo than it has ever been, thus rebellious teenagers are less intrigued by its nefarious allure.
Also in the report: Less than 11 percent of teens said they smoked a cigarette in the last month, the lowest figure since the study began in 1991. Cigarette use among teens hit its peak in 1997 at 36 percent. But with the explosion of vaping–smoking electronic cigarettes–nicotine is still being consumed at high rates: 24 percent said they vaped within the last month.
"The bottom line is that youth should not be using any form of tobacco product, irrespective of whether it's e-cigarettes, a combustible product like cigarettes, or smokeless tobacco," said Brian King, CDC's deputy director for research translation in the Office on Smoking and Health, in a conference call with reporters.
And in perhaps the most disturbing find of the study, 17 percent of students said they had taken prescription drugs–Oxycontin, Vicodin, Adderall, and Ritalin–without a doctor's consent. That too is a downward trending figure, but experts involved in the study still find it to be alarmingly high.
"It suggests that there's a norming behavior among kids that it's okay to take these powerful drugs without somebody prescribing them for you," said Doctor Stephanie Zaza, director of CDC's Division of Adolescent and School Health. "That is a pattern that can be held over to adulthood and it can lead to other forms of risky drug taking."