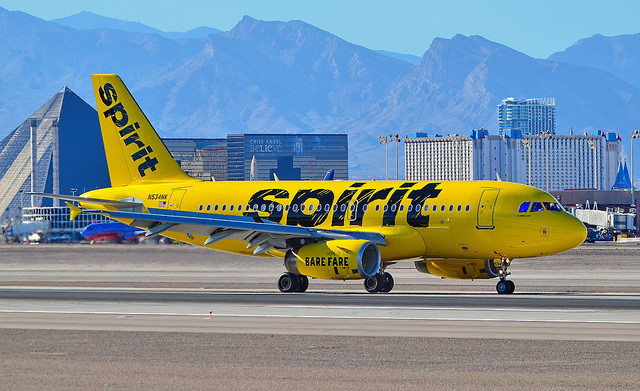 Image Courtesy of Tomás Del Coro : License (CC BY-SA 2.0)
Society and Culture
Spirit Flight Cancellations Lead to Passenger Brawl at Ft. Lauderdale Airport
By
|
I think we all can agree that flight cancellations are the worst. But for some stranded Sprit Airlines passengers in Florida, it proved to be more than they–and the airline staff, for that matter–could handle.
Travelers began screaming at airline employees and throwing punches inside of Fort Lauderdale's airport Monday evening after the budget airline announced the cancellation of several flights, leaving hundreds stranded.
The situation went viral after cellphone footage captured Broward Sheriff's Office deputies struggling to break up a fight between two women near Spirit Airline's ticket check-in counter.
Chaos at a Florida airport after @SpiritAirlines flights are canceled: https://t.co/5fkrx1xerS pic.twitter.com/7vlufN3TD6

— NBC DFW (@NBCDFW) May 9, 2017
A massive brawl broke out at a Florida airport when Spirit Airlines cancelled 81 flights in one day https://t.co/xn4oiwg0L7 pic.twitter.com/Nvog2Xyymh

— BuzzFeed News (@BuzzFeedNews) May 9, 2017
In another video, police wrestled a man to the ground near the ticket counter and placed him in handcuffs.
Just witnessed police brutality at Fort Lauderdale airport @SpiritAirlines trying to get back to NYC…i'm tired its 2017 pic.twitter.com/3UHGUqCuwm

— Brionka Halbert (@brionkahalbert) May 9, 2017
Altogether, the deputies arrested three people for inciting the crowd of about 500 customers. They face charges of inciting or encouraging a riot, disorderly conduct, resisting an officer, and trespassing after receiving a warning.
According to Buzzfeed News, Spirit alleged in a lawsuit filed Monday that its pilots and their labor union, the Air Line Pilots Association (ALPA), conspired to purposefully reduce pilot availability, resulting in approximately 300 canceled flights over the past week. On Sunday alone, the airline said it was forced to cancel 81 flights–17 percent of its scheduled flights for that day–because pilots refused to work amid contentious contract negotiations.
Spirit estimates that about 20,000 customers have been affected since the cancellations began last week.
"We are disappointed that ALPA has decided to engage in this unlawful slowdown," said Paul Berry, Spirit spokesman, in a statement. "This has led to canceled flights and prevented our customers from taking their planned travel, all for the sole purpose of influencing current labor negotiations. So we reluctantly filed this suit to protect our customers' and our operations."
"This is clearly unlawful activity under the Railway Labor Act, which governs labor relations in the airline industry," Berry added. "ALPA and those individuals responsible should be held accountable."
Spirit has been in contract negotiations with its pilots for the past two years, after they expressed dissatisfaction with current pay rates, retirement benefits, and the airline's lack of profit-sharing.
As a result, pilots have refused to accept junior assignments or pick up "open time flying," which has dramatically impacted Spirit's ability to operate smoothly. The union, on the other hand, denies urging members not to accept assignments.
In June of last year, Spirit pilots went on a five-day strike that left thousands of passengers stranded. Then, in October, nearly 100 pilots picketed at the Dallas Fort Worth airport and outside Spirit's headquarters in Miramar, Florida.
This all comes as the airline industry is under fire after a series of intense customer service scandals made headlines across the nation. With summer quickly approaching, the industry as a whole could really benefit from some good PR as travelers begin to prep for vacation travel.