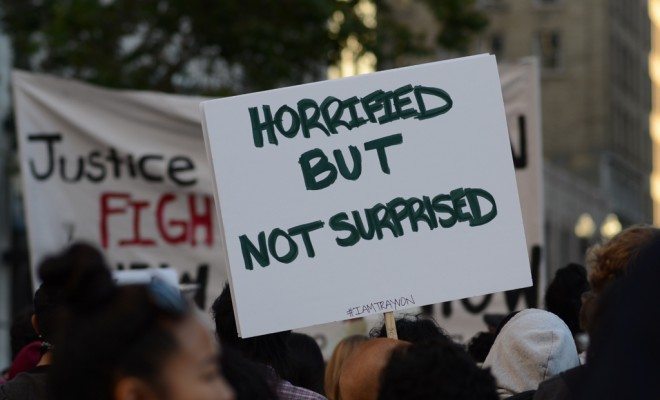 Image courtesy of [Daniel Arauz via Flickr]
Society and Culture
Seriously?: George Zimmerman Tries to Auction Off Gun Used to Shoot Trayvon Martin
By
|
For today's dose of "People Suck" (a common refrain here at Law Street) let's chat about what George Zimmerman is up to now. Let's keep in mind that since Zimmerman killed Trayvon Martin in 2012, he's been up to quite a lot–for example, last September he retweeted a photo of Martin's dead body, appearing to brag about it. Earlier in 2015, he got into a road rage incident with another driver. He also had a few different altercations with his girlfriend, and all around just seems like a totally standup guy. But now Zimmerman is in the news once again after the story broke this morning that he's attempting to auction the gun he used to shoot Trayvon Martin online.
The website gunbroker.com had a listing for the weapon this morning, but the page has since been taken down. However the listing is available in cache form, and shows the details of the proposed auction. The page listed the bidding as starting at $5,000, and featured a short description that appears to have been written by Zimmerman himself. Here are some fascinatingly ridiculous highlights:
The firearm for sale is the firearm that was used to defend my life and end the brutal attack from Trayvon Martin on 2/26/2012.

…

Many have expressed interest in owning and displaying the firearm including The Smithsonian Museum in Washington D.C. This is a piece of American History.

…

The firearm is fully functional as the attempts by the Department of Justice on behalf of B. Hussein Obama to render the firearm inoperable were thwarted by my phenomenal Defense Attorney.

…

On this day, 5/11/2016 exactly one year after the shooting attempt to end my life by BLM sympathizer Matthew Apperson I am proud to announce that a portion of the proceeds will be used to: fight BLM violence against Law Enforcement officers, ensure the demise of Angela Correy's persecution career and Hillary Clinton's anti-firearm rhetoric.
If you didn't follow those ramblings, the gist is this: Zimmerman is still purporting that Martin attacked him, claims that the Smithsonian wanted his gun, implies that Obama and/or the Justice Department tried to disable his gun, and that he's going to use the proceeds of the gun auction to fight Black Lives Matter Advocates, the prosecutor who tried him, and Hillary Clinton.
Zimmerman also claims that he's selling the gun to move on with his life, saying:
I'm a free American. I can do what I'd like with my possessions. I thought it's time to move past the firearm. And if I sell it and it sells, I move past it. Otherwise, it's going in a safe for my grandkids and never to be used or seen again.
Luckily, the site on which Zimmerman was trying to host his morbid and downright inappropriate auction has put a stop to it, but I'm sure Zimmerman will come up with some crackbrained scheme to horrify us all again any day now.