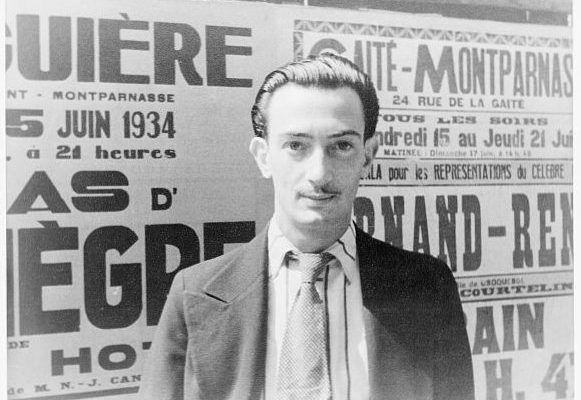 "Portrait of Salvador Dali" Courtesy of The Library of Congress; License Flickr Commons
Society and Culture
Salvador Dalí's Body to be Exhumed in Paternity Suit
By
|
Spanish surrealist artist Salvador Dalí died at the age of 85 in 1989 without having children with his longtime muse and wife, Gala Dalí. But on Monday, a Spanish judge ordered the body of Salvador Dalí to be exhumed in order to obtain samples for a paternity suit launched by a 61-year-old woman claiming to be the daughter of the late artist.
Pilar Abel, a Madrid-based tarot card reader, has been trying to prove that Dalí is her father for years. In an interview with Spanish newspaper El Mundo in 2015, she said, "the only thing I'm missing is a mustache." But Abel has thought Dalí was her father for nearly her entire life. Her grandmother was the first to tell her about her alleged father one day when she was 8 years old. Her mother verified the claim but did not make a big deal about it because "she didn't want to throw stones on her own grave," according to The New York Times.
In 2015, Abel filed a lawsuit in Madrid in which she claims that her mother had a friendship that developed into a "clandestine love affair" with Dalí. Abel claims it happened when her mother worked as a maid in the Port Lligat home of a family who often vacationed in the Spanish fishing village. Dalí also had a house there.
The alleged affair occurred when Dalí was married to his muse Gala, born Elena Ivanovna Diakonova. The couple had an unconventional relationship and never had children.
This isn't Abel's first attempt to verify her paternity claim. According to the court decision, she sought two paternity tests in 2007. One of which was executed by American toxicologist Michael Rieders using gastric tubes that had been used to feed Dalí during a 1984 hospitalization. Dalí's former assistant and biographer Robert Descharnes helped Abel carry out the test. The results were inconclusive, which Rieders attributed to the "secondary" nature of the DNA. For conclusive evidence, he suggested, Abel would need direct access to Dalí's remains.
However, Abel claimed she never received the results of the DNA test. Her paternity suit in Madrid in 2015 was meant to obtain the results or have additional testing conducted. Descharnes' son, Nicolas, disputed Abel's claim in 2008, claiming that the doctor had told Abel that the test was negative.
If the court finds evidence to confirm that Abel is Dalí's daughter, she could use his surname and may be entitled to part of his estate. She told The New York Times that she hopes the lawsuit delivers recognition of her father's true identity, and "after that, whatever corresponds to me." Abel is most likely referring to Dalí's $325 million estate that was given to the Spanish Kingdom following his death, which is why her lawsuit is against the Spanish state–the legal owner of the estate.
Abel's lawyer said a date has not yet been set for the exhumation, but that it could happen as soon as July. The Dalí Foundation, which manages his estate, has said it will appeal the decision in the coming days.