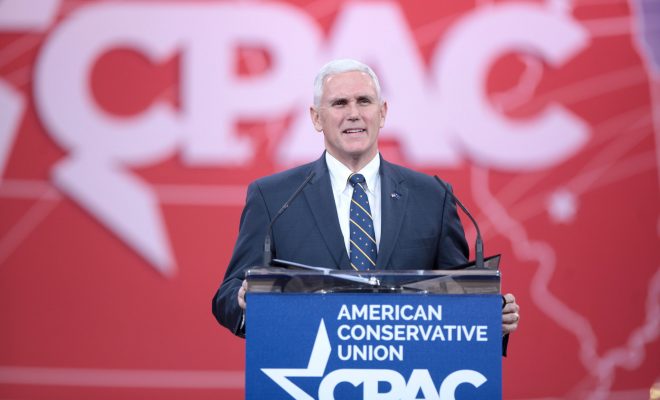 "Mike Pence" courtesy of Gage Skidmore; license: (CC BY-SA 2.0) 
Society and Culture
Rainbow Pride Flags Pop Up in Mike Pence's New Neighborhood
By
|
Residents of the Chevy Chase neighborhood in Washington D.C. have started decking out their houses with rainbow flags. Vice President-elect Mike Pence just began renting a house there, while waiting for the move to Number One Observatory Circle that he'll make when Trump takes office in January. The flags are "a respectful message showing, in my case, my disagreement with some of his thinking," said neighbor Ilse Heintzen to WJLA. She said that she has gay friends and that when one neighbor suggested hanging Pride flags on their houses, she joined in.
Residents on NW Washington Street where VP Elect Pence is renting a house are sending him a symbolic message. More residents may hang flags pic.twitter.com/fldYsMoP6i

— Suzanne Kennedy (@ABC7Suzanne) November 30, 2016
Pence has been criticized for his stance on LGBT rights, including his past support of conversion therapy. A wide range of influential groups, including the American Medical Association and the American Psychological Association, have denounced the practice. Over the weekend, Pence's spokesman Marc Lotter denied that he ever was in favor of the practice. But a statement on his congressional campaign website from 2000 said that no federal funding should go to organizations that "celebrate and encourage the types of behaviors that facilitate the spreading of the HIV virus." It said that "resources should be directed toward those institutions which provide assistance to those seeking to change their sexual behavior."
In 2006, Pence supported a Constitutional amendment that would only recognize marriages between a man and a woman, and he said that same-sex marriage would lead to "societal collapse." He was also in favor of the "don't ask, don't tell" policy that prohibited military members from serving if they were openly gay. And Pence signed the Religious Freedom Restoration Act when he was governor of Indiana, which essentially allowed businesses to discriminate against LGBT people.
Many Americans are worried that the new government could overturn the progress the LGBT community has made in recent years. But D.C. isn't going down without a fight. According to local media there are about six flags up in the D.C. neighborhood, but more are on the way. "I have no idea what [the Vice-President Elect] will think about, but I hope he will change his mind," said Heintzen. "This is one way that I can show my disagreement."