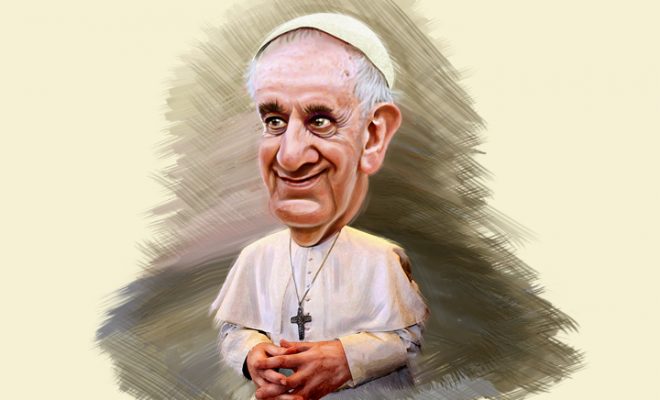 IMAGE COURTESY OF DONKEYHOTEY : LICENSE  (CC BY-SA 2.0)
Society and Culture
Pope Francis Calls Fake News a Sin, Compares it to Fascination With Feces
By
|
Pope Francis called on the media to seek transparency and truth in the wake of an election cycle influenced heavily by fake news–reports that the pope found to be scandal-minded and sinful.
The leader of the Catholic Church compared the spreading of disinformation to an unhealthy obsession with feces in an interview with the Belgian Catholic weekly, Tertio. The pope said:
I believe that the media should be very clear, very transparent, and not fall prey–without offense, please–to the sickness of coprophilia, which is always wanting to communicate scandal, to communicate ugly things, even though they may be true.
The unusual term, coprophilia, is a medical term used to describe arousal from excrement or feces.
Pope Francis used the example to criticize the media's pleasure in spreading such "disinformation," and said it would be a sin for a journalist's purpose to be anything other than educating the public.
"Disinformation is probably the greatest damage that the media can do, as opinion is guided in one direction, neglecting the other part of the truth," Pope Francis explained.
The pope commented on the temptations to raise slanderous claims, but went on to say that every person has the right to a good reputation.
"[The] communications media have their temptations. They can be tempted by calumny, and therefore used to slander, to sully people, especially in the world of politics," the pope said.
Wednesday's interview heavily referenced the global debate over the surge of fake news websites. According to some observers, the abundance of fake news during the 2016 presidential election could have swayed the election in favor of Donald Trump.
Shockingly enough, the pope is no stranger to the fake news cycle.
A story that circulated earlier this year reported that Pope Francis endorsed Donald Trump for President of the United States. The article was completely fabricated and proven to be false.