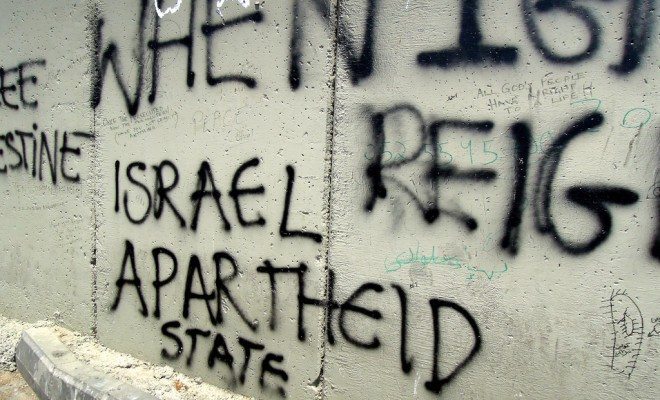 Society and Culture
Political Graffiti as a Catalyst for Escalating Israeli-Palestinian Violence
By
|
Violence between Israel and Palestine has surged over the last month following a chain of antagonistic murders in East Jerusalem and the West Bank. On June 12, three Israeli students— Eyal Yifrah, Gilad Shaar, and Naftali Frenkel— were killed. Their bound and partially burned bodies were found in a field northwest of Hebron two weeks later. In retaliation, a 16-year-old Palestinian boy, Muhammed Abu Khdeir, was abducted, bound, and burned alive one day after the burial of the three Israeli students. Khdeir's cousin, 15-year-old Tariq Abu Khdeir, a Palestinian-American vacationing in East Jerusalem was arrested by Israeli police and beaten while in custody; videos of the boy's bloody face circulating in social media have only magnified the emotional force behind the escalating tensions between the two countries, engendering missile exchanges between Israel and the Hamas-controlled Gaza Strip. On Monday July 7, Israel authorized the mobilization of 40,000 reserve soldiers in preparation for an invasion of Gaza, which according to Israeli Defense Minister Moshe Ya'alon "will not end within a few days."
Amid the gruesome murders and savage beatings should it be surprising that graffiti has played a critical role in the escalating violence between Israel and Palestine? Since 2008, Price Tag attacks have been a growing phenomena in Israel, though primarily in the West Bank and East Jerusalem; they originated from the "Hilltop Youth" of the West Bank, illegal Israeli settlements on Palestinian land — 100 small outposts scattered on strategic hilltops. "A 'price tag' means that when the government of Israel decides to evict a settlement, an outpost, even the smallest wooden shack in the land of Israel — it has a price," according to Moriah Goldberg, a 20-year-old Price Tagger. "Maybe it will make them think twice before they do it again."
Attacks involve destruction of property perpetrated by Israeli extremists against Arabs —desecrating cemeteries, burning Korans, chopping down olive trees — as well as anti-Arab and anti-Christian defamatory graffiti slogans including the phrase "Price Tag." "Price tag, King David is for the Jews, Jesus is garbage;" "Jesus is a son of bitch," spray painted on the entrance of a church; "A good Arab is a dead Arab, Price Tag," spray painted on a mosque; "Death to Arabs;"  "Enough Assimilation," "Arab Labor = assimilation;" "Non-Jews in the area = enemies."
Recently, however, Price Tag attacks have increased in frequency and grown more violent. Attacks have surged from a handful in 2008 to 23 already in 2014; along with slashing tires, Price Tag attackers have firebombed empty vehicles, leaving their signature graffiti marks in the wake of their destruction. In response to the arrest of Israeli suspects for the murder of Abu Khdeir, Price Taggers destroyed a light-rail station in East Jerusalem, leaving Hebrew graffiti reading"Death to Israel" across the burned-out edifice. Price Tag is a "shadowy network of clandestine cells," according to a recent profile of the guerrilla graffiti group in Foreign Policy, posing a "danger to Israeli security. Future acts of vandalism against Palestinians could escalate tension beyond their current, already dangers levels."
In 2012, the U.S. State Department began listing Price Tag attacks as acts of terrorism in the Global Terror Report, though Israel falls short of this judgement; on July 1, Israeli Defense Minister Ya'alon defined the attacks a "illegal organizing," stipulating more severe sentences for the Jewish perpetrators. "[T]errorism is a suicide bomber in a crowded mall or someone who shoots people," said Dani Dayan, the former director of the Yesha Council, an umbrella organization of municipal councils of Jewish settlements. Price Tag attacks should be treated as "extreme vandalism" or even "hate crime…There's no comparison between this and real Palestinian terrorism[.]"
Whether or not Israel defines Price Tag as 'terroristic,' victims still consider the attacks state-condoned violence against non-Jews due to Israel's apparent failure to prosecute. Historically, more than 90 percent of investigations into settler violence fail to lead to an indictment. According to Slate, while Israel has condemned the recent rise in Price Tag attacks, the response by authorities has been "charitably described as sluggish." Between 2005 and 2013, 992 investigations of complaints of Israeli violence against Palestinians were conducted, yet only 7.8 percent led to indictments.
There have been quite a few arrests of Price Tag attackers, in fact; the most recent was July 1, when a 22-year-old Israeli was detained in connection with a Price Tag attack in which assailants torched a christian monastery, spray painting "Jesus is a monkey." "It is unbelievable to us that Israel can catch enemies, very sophisticated enemies, overseas, but they can't catch a bunch of punks who live here," said Jawdat Ibrahim, the owner of a local restaurant. "These attacks happen in an atmosphere, maybe an atmosphere that says, 'Hey, it's okay, you're never gonna get caught.' " In a poll released last week by Israel's Channel 10 News, almost 60 percent of those surveyed agreed that the government "didn't really want to catch" Price Tag attackers, indicating that Israel condones this violence, or at least allows it to happen.
"There's no doubt that the Price Tag phenomenon is very influenced by political processes," said Hebrew University political sociology lecturer Eitan Alum. "They're violent acts with logical and political goals." Yet Price Tag is is also an expression of hate, inciting violence among and between Palestinian and Israeli communities.
"'Price Tag' and 'Hilltop Youth' are sweet, sugary nicknames, and the time has come to call this monster by its name," famed Israeli author Amos Oz publicly declared on May 14th, 2014, his 75th birthday. "Hebrew neo-Nazis. The only difference between European neo-Nazi groups and Price Tag in Israel," Oz continued, "lies in the fact that our neo-Nazi groups enjoy the tailwind of quite a few lawmakers who are nationalists, and possibly even racists, and also a number of rabbis who provide them with a basis that, in my opinion, is pseudo-religious."
Oz's sobering, if however startling, remarks point to pressing issues regarding the difference between Price Tag and other instances of political graffiti, globally. While graffiti artists like Ganzeer in Egypt, and Captain Borderline in Brazil have used their graffiti to critique oppressive government apparatuses, Price Tag specifically targets elements of the Israeli people based on race, ethnicity, and religion; the group's intent is malicious, a vindictive visual assault on non-Jews who are otherwise victims of an apartheid Israel, or are continually subject to military violence, as is the case in Gaza.
It is important to differentiate these two strains of political graffiti: while graffiti can promote equality and liberty, it can also counter these values. Once a haven for the oppressed, founded on socialist values, Israel has become an oppressor. Price Tag is a plague of hate, radicalized by twisted Zionism, and ruthless settler politics. "Faithless Jews who don't fear God can call me a terrorist if they want," said Price Tagger Moriah Goldberg. "I don't care what they say about me. I only care what God thinks. I act for him and him alone."
—
Ryan D. Purcell (@RyanDPurcell) holds an MA in American History from Rutgers University where he explored the intersection between hip hop graffiti writers and art collectives on the Lower East Side. His research is based on experience working with the Newark Public Arts Project and from tagging independently throughout New Jersey and New York.
Featured image courtesy of [Adrian Fine via Flickr]