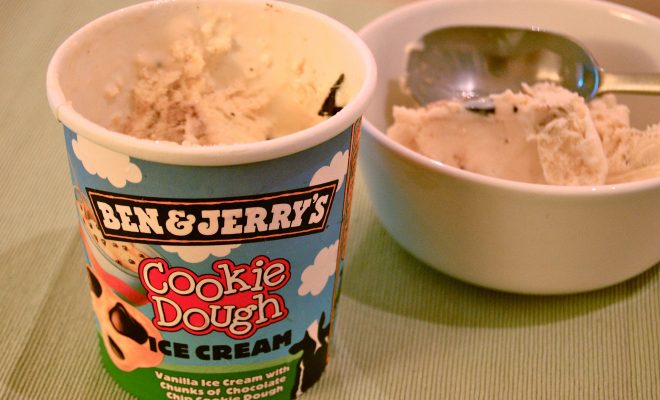 "Ben & Jerry's" courtesy of [Magnus D via Flickr]
Society and Culture
Police Group Demands Boycott of Ben & Jerry's Ice Cream
By
|
Everyone's favorite ice cream brand Ben & Jerry's released a statement expressing its support for the Black Lives Matter movement last week. Now a group of police officers are calling for a boycott of the ice cream.
Last Thursday, Ben & Jerry's wrote in a statement:
Systemic and institutionalized racism are the defining civil rights and social justice issues of our time. We've come to understand that to be silent about the violence and threats to the lives and well-being of Black people is to be complicit in that violence and those threats.
Most social media users greeted the news with joy.
Why Ben and Jerrys woke af 👏🏾

⚡️ "Ben and Jerry's release statement in support of Black Lives Matter"https://t.co/N75HRmAv4B

— Chocolate Metaphor🍫 (@_MikePearson) October 7, 2016
But the police organization Blue Lives Matter, which was created after the killings of two NYPD officers in Brooklyn in December of 2014, released a statement on Monday urging "all Americans" to boycott the ice cream brand. It said:
Ben & Jerry's just recently announced their support for Black Lives Matter along with a misinformation campaign accusing law enforcement of widespread systemic and institutionalized racism. Many companies have offered misguided statements of support for Black Lives Matter in the past, with the false belief that they are expressing support for civil rights.
The event gave birth to the hashtag #BenAndJerrysNewFlavor and a bunch of suggestions for new flavors in honor of the company's statement.
He Was Unarmed Dough 🍨#BenAndJerrysNewFlavor

— NUFF$AID (@nuffsaidNY) October 7, 2016
Fudge The Police #BenAndJerrysNewFlavor

— W.E.B. Dem Boyz (@Kevunn) October 7, 2016
#BenAndJerrysNewFlavor New Cone, Who Dis?

— Taco Bout It (@Anthoneezuss) October 7, 2016
Blue Lives Matter claims in the statement that Ben & Jerry's endorsement of Black Lives Matter is anti-police and dangerous, because it inspires people to kill police officers by spreading false and misleading information about the police being racist. It said that BLM is not a civil rights group, but a political one, fighting for its own goals such as a disruption of the Western nuclear family structure and tax-paid damages for harms inflicted on black people. They wrote:
By not only attacking law enforcement, but openly supporting Black Lives Matter, Ben & Jerry's is sure to anger most Americans who do not agree with the political causes that they are supporting.
Ben & Jerry's is used to speaking up when it comes to supporting causes it cares about. The founders, Ben Cohen and Jerry Greenfield, have previously supported the World Wildlife Fund and Occupy Wall Street. They also supported Senator Bernie Sanders' presidential campaign and even honored him by creating a special ice cream flavor for him; chocolate mint with the name "Bernie's Yearning."