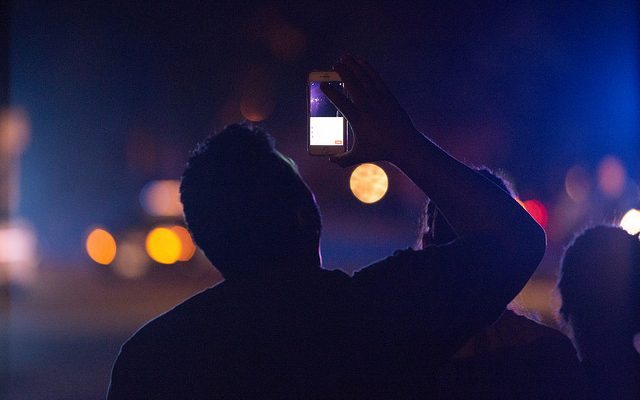 Philando Castile - Livestreamer Courtesy of [Tony Webster via Flickr]
Society and Culture
Twitter Reacts to Philando Castile and Alton Sterling Shootings
By
|
In less than 48 hours, two black men were killed in high profile officer-involved shootings. Just after midnight on June 5 in Baton Rouge, Louisiana, several videos captured Alton Sterling as he was shot multiple times by police who were restraining him on the ground–he was selling CDs outside of a grocery store and he was unarmed. Then in Falcon Heights, Minnesota late last night, Philando Castile was shot multiple times during a traffic stop–his girlfriend live-streamed the gruesome aftermath.
The deaths of these men are hardly unique–in fact police have killed at least 1,083 Americans since Ferguson, Missouri catapulted onto the national news. However, thanks to the video footage during and after the incidents, the American public knows their names.
So rather than explain to you again the importance of the #BlackLivesMatter movement, or discuss with you how institutionalized racism is ingrained in American police forces, or even show you the statistics on police shootings of unarmed black men,  I've chosen to fall back. Instead I've chosen to provide you with a collection of tweets from the public, politicians, athletes, and celebrities expressing outrage over the shootings.
Because as a young light-skinned black woman in today's society, it doesn't matter how educated, critical, or eloquent I am, I will always find myself being categorized by some people under the cliche label of "angry black female." This label allows people to ignore me, dismiss my opinions, and justify their own ignorance.
But guess what, I am angry! Police senselessly killing black men, women, and children makes me angry.
Therefore, today I will rely on the following qualified individuals–who come from different races, genders, religions, and socioeconomic backgrounds–to explain why deaths like these are not acceptable and can not continue to be scapegoated in America, because #BlackLivesMatter.
Politicians and Influencers:
America woke up to yet another tragedy of a life cut down too soon. Black Lives Matter. #PhilandoCastile -H

— Hillary Clinton (@HillaryClinton) July 7, 2016
The violence that killed Alton Sterling and Philando Castile has become an all too common occurrence for people of color and IT. MUST. STOP.

— Bernie Sanders (@BernieSanders) July 7, 2016
The national pattern of lynching black men by ropes or guns must end. We deserve equal protection under the law. #RIP #PhilandoCastile

— Rev Jesse Jackson Sr (@RevJJackson) July 7, 2016
I'm not sure what to say anymore that I've not already said, that others haven't already said. In these moments we must organize.

— deray mckesson (@deray) July 7, 2016
Celebrities:
Couldn't even sleep last night… First, #AltonSterling and then this video of #PhilandoCastile being brutally killed. This. Must. Stop.

— Justin Timberlake (@jtimberlake) July 7, 2016
This IS systemic. We MUST DO BETTER. My heart goes out to the families of #AltonSterling and #PhilandoCastile May they both Rest In Peace.

— Justin Timberlake (@jtimberlake) July 7, 2016
If all lives matter… SHOW US!!! Prove it! Show us our bodies hold the same value. There is no excuse for the slaughter. None.

— Gabrielle Union (@itsgabrielleu) July 7, 2016
He had a right to sell CDs, and a right to due process, but he he was shot for being a black man. Don't rationalize murder. #AltonSterling

— olivia wilde (@oliviawilde) July 6, 2016
1) In the interest of time, would ye noble patriots please provide a list of infractions punishable by spontaneous public execution? Thanks!

— jesseWilliams. (@iJesseWilliams) July 6, 2016
2) Upon receipt of this list, we'll return to our quarters and study up, eager to enjoy freedoms of white mass murders. #LIFEHACK

— jesseWilliams. (@iJesseWilliams) July 6, 2016
3) You chumps will NEVER provide this list… We see through you.

— jesseWilliams. (@iJesseWilliams) July 6, 2016
We should not have to jump through hoops to prove black people shouldn't be shot by police during routine traffic stops.

— John Legend (@johnlegend) July 7, 2016
We have fucking video proof and some of you still are all "well, uh, he shouldn't have moved his left leg so provocatively".

— John Legend (@johnlegend) July 7, 2016
Athletes:
This is what lynchings look like in 2016! Another murder in the streets because the color of a… https://t.co/hwdW53AeXg

— Colin Kaepernick (@Kaepernick7) July 6, 2016
Went to bed and it's #AltonSterling. Woke up and it's #PhilandoCastile. I just can't put a word to how I feel…

— Skylar Diggins (@SkyDigg4) July 7, 2016
Seriously 24 hours later another black man shot and killed dead by another cop! They said the body cameras were steps in the right direction

— Reggie Bush (@ReggieBush) July 7, 2016
The Public:
#PhilandoCastile is shot over a broken tail light but the stanford rapist avoids prison time since it would "have a severe impact on him."

— Lyla (@LylaRevilla) July 7, 2016
This woman reposted an emotional response to the Philando Castile from the perspective of a black female police officer:
Black female police officer speaks out about the Alton Sterling shooting. She spoke with so much passion!https://t.co/0p6XMvOs5b

— Bronwyn (@BronwynJanse) July 7, 2016
This man translated his feelings into song:
I write my own songs, but never actually do poetry, but I'm fed up !! 🗣🗣
#blacKKKLottery #blacklivesmatter pic.twitter.com/uuyAvWQhbN

— Isaiah Jaay (@simpingNpimping) July 7, 2016
One user even had a suggestion for his fellow black males–wear your personal documents taped to your body:
How we're going to have to start waking around #PhilandoCastile pic.twitter.com/XuE5ocXbAN

— Kayla Baker ✍ (@kayla_bake) July 7, 2016
…