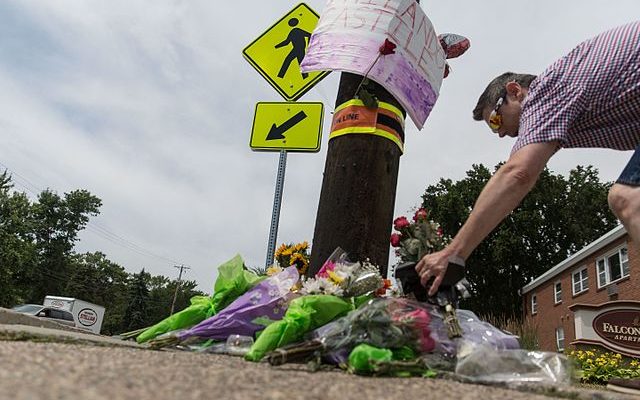 Man Leaves Flowers at the Intersection Where Philando Castile was Killed. Courtesy Lorie Shaull; License CC 2.0
Society and Culture
Officer Shot Philando Castile While Wearing "Police Lives Matter" Bracelet
By
|
Minnesota authorities released thousands of documents as well as dashcam footage related to the traffic stop during which a police officer shot Philando Castile seven times in front of his girlfriend and her five-year-old daughter. The aftermath of the shooting was famously captured through Facebook Live last summer.
The files and other data related to the investigation were released on Friday following the acquittal of Officer Jeronimo Yanez on second-degree manslaughter. This was the first time in Minnesota history that an officer was charged in an on-duty fatal shooting, according to the New York Times, and the result seemingly set a chilling precedent that a black man must move his hands toward his legally-obtained firearm in a specific way that does not scare the police officer in order to avoid being shot.
While the newly-released dashcam footage raised its own questions about why Castile was shot at a traffic stop during which he was supposedly believed to be a suspect in a robbery, new concerns have come up after a photograph of Officer Yanez after the incident was released.
Officer Jeronimo Yanez pictured wearing "Police Lives Matter" bracelet, Philando Castile's bloodied insurance card still in his pocket. pic.twitter.com/FrjfYjVXMU

— Tony Webster (@webster) June 20, 2017
"Police Lives Matter" of course is a bastardization of "Black Lives Matter," the phrase based on the idea that black lives in the United States have been disregarded to the point where society as a whole needs to be reminded that they do indeed matter. The phrase, similar to "Blue Lives Matter," rests on the idea that the lives of police officers are not valued enough in this country and is often used as a counter-argument to "Black Lives Matter."
If anything, that movement has been arguably more successful than BLM. In addition to Officer Yanez's acquittal–which was celebrated by a "Blue Lives Matter" Twitter account–state legislatures have passed, or attempted to pass, laws that would make murdering police officers a hate crime. Texas signed a "Blue Lives Matter" bill into law earlier this month, citing growing concerns from police officers of feeling less safe in the line of duty, despite a decades-long decline in the number of line of duty deaths, with only a third as a result of murder. States like Arizona, Arkansas, Georgia, Kansas, Kentucky, Mississippi, Missouri, Nevada, North Dakota, Oklahoma, Tennessee, Utah and West Virginia, most of which are led by Republicans, have also enacted similar laws providing more protection for police officers.
The number of people killed by police, on the other hand, reached a two-decade high in 2013 and has continued to increase since.
The photo also shows the possibility that the death of Philando Castile could have been avoided. On the left side of Officer Yanez's belt sits a taser, an instrument that has been authorized by many police departments. While some may argue that the taser is either ineffective or not used often enough, it's worth pointing out that complaints from tasered civilians seem common enough to warrant a page on a Minnesotan Civil Rights Lawyers' site.
And activists and politicians alike have already reacted to the dashcam video that shows Yanez firing into Castile's car less than one minute after the traffic stop with varying conclusions.
State Rep. Nick Zerwas (R-Elk River) called the video tough to watch, but added that the footage only reinforced how Yanez had a difficult split-second situation to make and explained the jury's decision.
"It's these very short but very clear verbal commands to not reach for it. And once you start down that path and the officer interprets noncompliance, it's going to play out very, very quickly," said Zerwas, who was named 2017 Legislator of the Year by the Minnesota Police and Peace Officers Association. "Looking at that video in context of all the information, you can see how the jury could reach that conclusion and understand why deliberations went on for all those days."
"No, no, no," said Tyrone Terrill, president of the state's African-American Leadership Council, minutes after viewing the video. "You don't have to remain calm on this one. You have a right to be outraged. You have a right to be angry. And I would be disappointed if you weren't outraged, if you weren't angry. It raises the question — how will you ever get a guilty verdict?"
What exactly happened inside Castile's car after Officer Yanez arrived at the window will probably never be known. But what many are left with is the image of a police officer–whose actions eventually left another man dead–posing with paraphernalia supporting a belief that a person in his line of duty is not valued enough in society.
Editor's Note: This article was updated on 6/22 to correct where Officer Yanez is from.