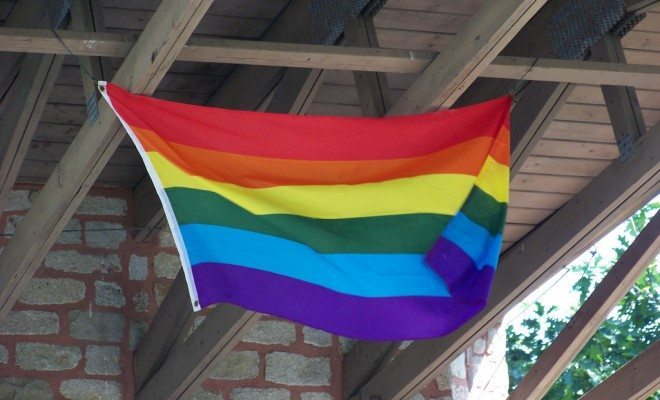 Image courtesy of [Sam T via Flickr]
Society and Culture
North Carolina and Mississippi: States Face Consequences for Discriminatory Laws
By
|
It's a sad time for LGBTQ rights in North Carolina and Mississippi, where discriminatory legislators have recently passed horrifyingly intolerant laws that specifically target members of the LGBT community. In response to these laws, companies, celebrities, and communities have begun to speak out for the rights of LGBTQ people and stand up for the repeal of hateful policies.
The North Carolina bill, which requires transgender people to use bathrooms that match the sex listed on their birth certificate, was signed into law last month by Governor Pat McCrory. The Governor claims that this law is a matter of protecting the safety and privacy of women and children in North Carolina. The new law in Mississippi allows churches, religious groups, and private businesses to deny service to people based on their gender or marriage status if they conflict with the businesses' religious beliefs. Not only are these laws draconian, but they are also getting both North Carolina and Mississippi into some serious trouble.
For starters, these laws are probably going to be challenged constitutionally in court. While it is most likely that these bills are being driven by unwarranted fear and misunderstandings about gender identity, rather than a pure hatred for the LGBTQ community, there is a question of the constitutionality of blatantly discriminatory laws.
North Carolina's law, specifically, could lose the state $4.5 billion in federal education funding from Title IX because of its violation of the Title's provisions:
No person in the United States shall, on the basis of sex, be excluded from participation in, be denied the benefits of, or be subjected to discrimination under any education program or activity receiving Federal financial assistance.
This law discriminates against transgender students in the school system, and, therefore, could call into question whether or not the state should still earn Title IX funding.
On the topic of financial hits the two states will be taking, North Carolina is expected to lose millions after PayPal pulled out of its planned expansion in Charlotte. The expansion was going to bring around 400 new jobs to the state, each with estimated yearly salaries of around fifty-one thousand dollars. On top of these tangible losses, large companies, and tech businesses are voicing their opposition to discriminatory laws like the ones in Mississippi and North Carolina. Some of Mississippi's largest employers, like Nissan and Toyota, have spoken out about how the law will hurt tourism and harm the state's economy. Funny or Die released a parody tourism commercial for Mississippi, tastefully highlighting exactly how these laws will drive away tourists.
In addition to decreases in tourism, entire cities and states are banning business travel to Mississippi and North Carolina because of these recently enacted laws. Minnesota, New York, Vermont, and Washington are four states who have prohibited employee travel to these two states, with many more sure to join in soon. Several cities including Atlanta, Boston, Chicago, Portland, and San Francisco  have also placed travel bans to both states. While travel bans are, for the most part, symbolic, they have the potential to affect local economies and reinforce the overwhelming lack of support for these two states.
If all of the economic hits and the national shame weren't enough to convince you of how terrible these laws are, big names from all across the country are also lashing out, including, but certainly not limited to, Joel McHale, Ellen Degeneres, and The Boss himself–Bruce Springsteen.
Springsteen canceled his tour stops in North Carolina in response to the bill, claiming that:
Some things are more important than a rock show, and this fight against prejudice and bigotry, which is happening as I write, is one of them. It is the strongest means I have for raising my voice in opposition to those who continue to push us backwards instead of forwards.
⚡️ "Bruce Springsteen joins North Carolina backlash"https://t.co/NBiQWZJxkf

— Bruce Springsteen (@springsteen) April 9, 2016
Ellen, who is an avid supporter of the LGBTQ community, tweeted support for the people who are being targeted in North Carolina and Mississippi.
The people of #NorthCarolina and #Mississippi deserve better. We won't stop fighting until they get it.

— Ellen DeGeneres (@TheEllenShow) April 5, 2016
And finally, in perhaps what is the best response to this law, Joel McHale decided to perform in Durham, North Carolina and then donate all of his profits to the LGBTQ center of Durham. After reasonably pointing out that "this [law] is fucking crazy," he announced this decision and promptly received an uproarious cheer from the audience.
Honestly, these laws are downright embarrassing and a great reminder of exactly why we need to keep fighting for all kinds of equality in this country. It is asinine that in 2016 we are still having to tell elected representatives that banning people from using a bathroom and refusing to serve customers because of their sexuality or gender identity is blatant discrimination. So, to Pat McCrory (the governor of my home state), Phil Bryant (Mississippi's Governor), and the rest of state representatives who have voted in favor of or spoken in favor of laws that are taking our country back centuries in terms of civil rights, I say pull it together. Stop making myself and countless other American citizens feel ashamed of our hometowns because of your antiquated, evil, discriminatory laws. Stop being so hateful towards people who are literally just being themselves. Stop making your states the laughing stock of the entire country and do your actual job: stand up for your people and their rights instead of tearing us all down.