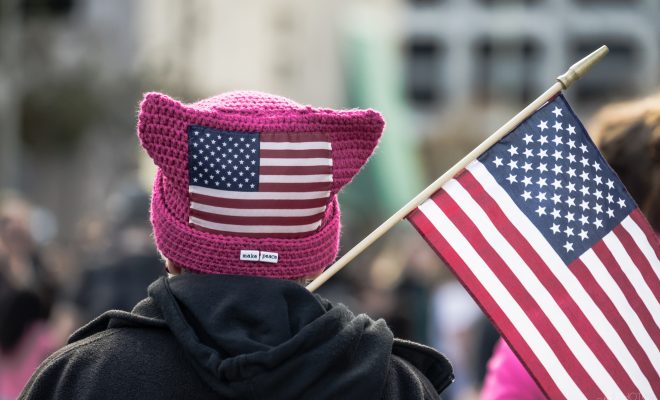 Image courtesy of Cody Williams; License: (CC BY 2.0)
Society and Culture
The Challenges of Building a National Women's Strike
By
|
In January, almost half a million people joined the Women's March in Washington, DC while tens of thousands more marched in smaller protests across the country. The Women's March has been called the largest single day protest in recorded American history–and the organizers behind the march are not letting their momentum fade. This week, they announced plans for a "Day Without a Woman," a general strike for women across the country and perhaps even around the globe.
Details on when the strike will take place have yet to be released but a surge of support is evident across social media platforms. The successful Women's Strike on Inauguration Day, during which over 7,000 workers went on strike from "both paid and unpaid work," could serve as a valuable template for organizers of a national strike. Those who marched in January seem ready and willing to strike so the challenge for the organizers may not be mass participation but instead efficacy.
Strikes often shut down a single sector of a single industry–a school, a factory, a mine–but they can also go city or district-wide, forcing local governments and employers to cave under pressure. Shutting down a company on a national level is a herculean task, but it can be done–however, the Women's March organizers are not targeting a single company, or even a single industry. Their vision involves women (and men who would strike in solidarity) striking in the same vein as the Black Monday protests for women's reproductive health that took place in Poland in 2016–a national day of strike in every industry, at every level, so large that it could not be represented by a single union or cause.
This type of strike could make for a second wave of impressive protests across the nation but it won't necessarily cripple the economy of the country–strikers will take a vacation day or an unpaid day off and then return to work the next day. The strikers themselves will be the ones who will have to make a sacrifice, as their employers likely won't lose any money from an employee being absent for a single day.
The Black Monday strikes were powerful but did not come close to stalling the economy of Poland. Unions have historically found strength in the length of their strikes–going without heat, teachers, or transport infuriates the public and makes a company or regulator cave to public demand for a return to usual service. However, when a strike is not concentrated on a single industry, public services and the general economy continue to operate as per usual. Another challenge for the strike will be laying out a concise set of demands. The Black Monday protests were targeted toward a single abortion bill, which ultimately did not pass, whereas the Women's Strike would be working against a larger set of issues and legislation.
The Women's Strike is only in its infancy, barely even a viable practice at the moment, yet it seems to be a largely symbolic act. That being said, a national strike can still open important dialogues, influence the opinions of elected officials, and engage citizens who may have been apathetic in the past. Ultimately, the strike will not disrupt the American economy but it will unite women in a common act of civil disobedience.