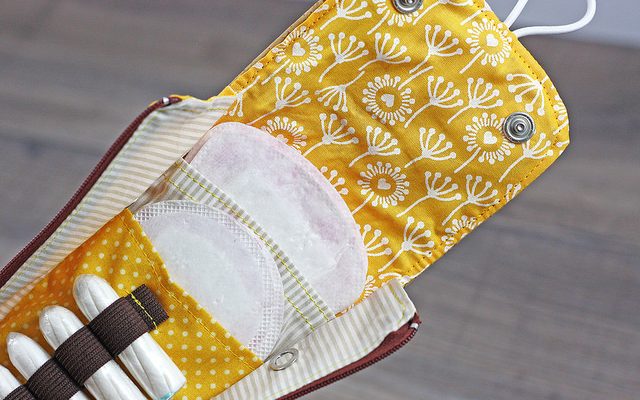 "Image" Courtesy of Elisabeth Steger License: (CC BY-ND 2.0)
Society and Culture
Bills Push to Make Menstrual Product Ingredients More Transparent
By
|
Two congresswomen from New York have introduced bills that could establish greater transparency in the ways menstrual product companies label ingredients and assess the health risks of products.
Rep. Grace Meng introduced the Menstrual Products Right to Know Act of 2017, which would require companies to include a list of ingredients on the label of menstrual products, such as menstrual cups, menstrual pads, tampons, and therapeutic vaginal douche apparatuses.
She's joined by Rep. Carolyn B. Maloney, who reintroduced a bill that would amend the Public Health Service Act to establish a research program to determine whether chemicals in feminine hygiene products present any health risks. The bill, titled the Robin Danielson Feminine Hygiene Product Safety Act of 2017, was named after a 44-year-old woman who died of toxic shock syndrome from a tampon in 1998.
According to the Maloney's bill, the average person who menstruates "may use as many as 16,800 tampons" in their lifetime." Tampons can contain trace amounts of dioxin, which the Environmental Protection Agency and the World Health Organization have both concluded can cause cancer.
Aside from dioxin, Maloney's bill would also instruct the National Institutes of Health to research the presence of synthetic fibers, chlorine, fragrances, dyes, preservatives, and other components in tampons and other feminine hygiene products.
"It is astounding that manufacturers of tampons, pads, menstrual cups and other menstrual hygiene products are not required to disclose the ingredients of these products," Meng said in a statement on her website. "We can easily see the ingredients used in the shampoo we put in our hair—why doesn't this apply to products that touch, or are inserted into, sensitive female anatomy?  Consumers are being denied access to crucial information, which affects their safety and impacts their ability to make informed choices. My bill, the Menstrual Products Right to Know Act, would finally change that."
Activists took to D.C. in May in support of the bills.
Thank you to Rep. Grace Meng for introducing legislation on the right to know what's in our menstrual products! #ComeClean #FemCarerally pic.twitter.com/6An6yA3rGl

— COLOR (@colorlatina) May 23, 2017
Thrilled to join @colorlatina to urge Congress and companies to care about feminine care! #FemCarerally #comeclean #detoxthebox pic.twitter.com/0fKr9jjFDz

— Morgan MenesesSheets (@morgmeneshets) May 23, 2017
Activism surrounding menstrual products is nothing new for Meng. In February, she introduced a "menstrual equity" bill to increase the availability and affordabillity of menstrual hygiene products.
The congresswomen's bills are still in the early phases of the legislative process, but they highlight a need for transparency in menstrual health.