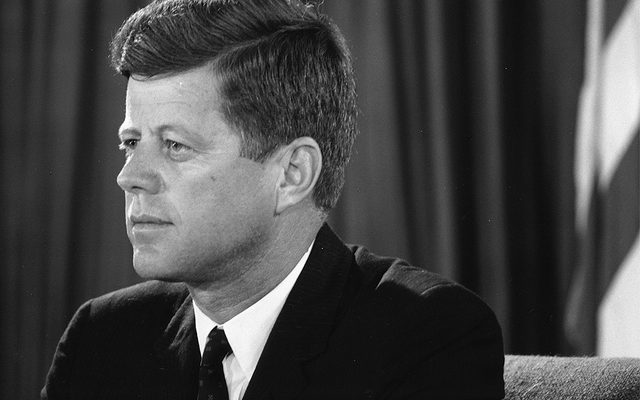 "President John F. Kennedy" courtesy of U.S. Embassy New Delhi: License (CC BY-ND 2.0)
Society and Culture
National Archives Releases Withheld Kennedy Assassination Records
By
|
On Monday, the National Archives released 3,810 documents pertaining to the John F. Kennedy assassination to the public.
According to the administration's press release, the records originate from the FBI and CIA investigations into the assassination–441 documents previously withheld in full and 3,369 documents previously released with portions redacted.
Notably, the release includes 17 audio interviews with Yuri Nosenko, an ex-KGB officer who had information on Lee Harvey Oswald's time in the Soviet Union. The release also contains records relating to the assassination of Martin Luther King Jr. in 1968, which took place five years after Kennedy was killed.
The National Archives is unsealing the documents as a result of the President John F. Kennedy Assassination Records Collection Act of 1992. The legislation passed in response to the 1991 film "JFK," which painted the assassination as a governmental conspiracy. Under the act, the National Archives was ordered to put all Kennedy assassination records in one collection that would be fully accessible within 25 years.
The entire collection consists of approximately five million records, 88 percent of which have been available to the public since the late '90s. However, thousands of documents remain totally under seal, along with tens of thousands of pages that have been only partially unsealed.
Many of the documents released this week were deemed too dangerous to unseal back in the '90s, as the classified information could have compromised American spies and confidential informants. Now, most of those agents have presumably passed away.
The 25-year deadline for releasing the full collection is on Oct. 26, 2017. Under the terms of the Records Collection Act, only one person can block the release: the sitting president, and only if he presents proof in writing that the records would threaten national security.
President Trump, who previously accused Senator Ted Cruz's father of being in league with Oswald, has roughly three months to decide if he will block the remaining records or not. In April, an anonymous White House staffer told Politico that the administration "is familiar with the requirements" and is working to "enable a smooth process in anticipation of the October deadline."
The newly-released materials are currently only available online, and access to the complete unsealed paper collection will be available at an unspecified later date. Once released, the National Archives will store all the Kennedy assassination documents onsite in College Park, Maryland, where the collection will be open to the public for viewing.