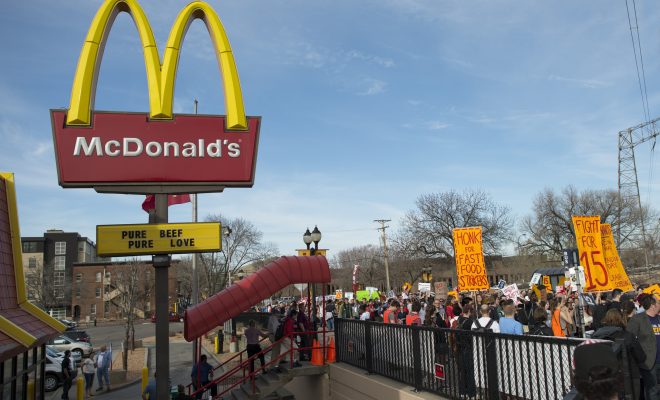 Image Courtesy of Fibonacci Blue; License: (CC BY 2.0)
Society and Culture
Thousands Protest McDonald's Wages, Demand $15 Per Hour
By
|
Thousands of people marched in Chicago on Tuesday and Wednesday, in front of McDonald's storefronts and the fast food giant's headquarters, protesting its low hourly wage. Organized by "Fight for 15," a labor group that advocates for a $15 per hour minimum wage, the protests began on Tuesday, as McDonald's employees waved banners and signs in the streets.
On Wednesday, a couple hundred people gathered in front of the company's suburban headquarters during its annual shareholder meeting. According to Reuters, 30 protesters were arrested on Wednesday for blocking a road. Terrance Wise, 42, was at the protest, and told Reuters he was there because he believes the minimum wage should be increased.
"I saw my mother, who worked for 30 years for Hardee's, struggle on food stamps to raise her family and now I'm doing the same things," he said, referencing another fast food giant. "Instead of paying their CEO $15 million, they should give him $10 million and pay their workers what's right." According to company figures, McDonald's CEO Steve Easterbrook made $15.3 million last year.
March is about to kickoff. Thousands are ready to shut down streets and march #fightfor15 pic.twitter.com/4TSD27S6u2

— Fight For 15 Chicago (@chifightfor15) May 23, 2017
 "Fight for 15" has referred to McDonald's as the "Donald Trump of corporations." A page on its website reads: "Trump AND McDonald's have a long history of sexual harassment, stealing from or refusing to pay employees, and ripping off taxpayers."
Since 2015, in the franchises that it owns, McDonald's pays its employees a wage of $10 per hour. But the majority of its stores are controlled by other owners, who can set the hourly wage as they please. The current federal minimum wage is $7.25 an hour. While many cities and states have raised their minimum wage, and some congressional Democrats have supported a steep increase, the Republican-controlled Congress is unlikely to make a federal change any time soon.
Meanwhile, Trump's stance on raising the federal minimum wage has flipped more times than a McDouble. He has taken almost every position imaginable: from suggesting the minimum wage should be lowered, to saying it should stay the same. His most recent public comments, however, suggest he would like to see it increased to $10.
Last July, he said: "The minimum wage has to go up. People are — at least $10, but it has to go up. But I think that states — federal — I think that states should really call the shot."
One-time presidential hopeful Bernie Sanders tweeted his two cents on the minimum wage debate on Thursday:
I know a $15 minimum wage is radical to Republicans.

You know what's radical? That people working 40 or 50 hours a week live in poverty.

— Bernie Sanders (@SenSanders) May 25, 2017