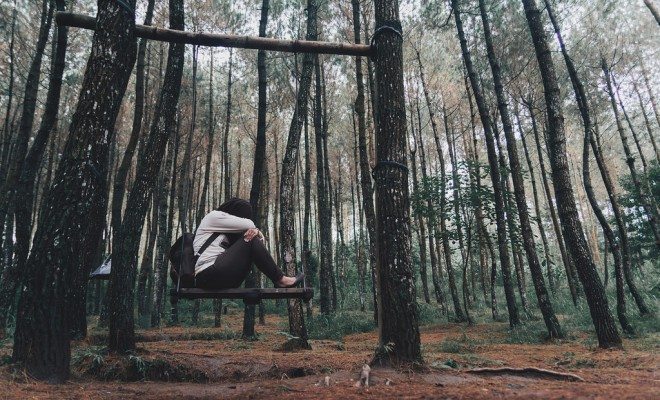 Image courtesy of [hasna syalva via Flickr]
Society and Culture
#MaybeHeDoesntHitYou: Hashtag Sheds Light on Non-Physical Abuse
By
|
Domestic abuse isn't always physical, it doesn't always leave bruises, and it's not always visible to the naked eye. Abuse can be mental, emotional, and verbal–and Zahira Kelly wanted to call attention to that fact when she started the hashtag #MaybeHeDoesntHitYou. An artist and writer, Kelly told Bustle:
Women's primary cause of harm and death is abuse from their loved one. The toll is in the millions and has been especially damaging to colonized women such as myself. The genocide and slavery we endured were justified via the same abuse culture that we face today. This is hundreds of years of abuse of all forms from the most extreme to the most subtle.
The hashtag has encouraged thousands of women to share their experience with abuse. Here are some of the powerful responses:
#maybehedoesnthityou but he constantly criticizes your clothes, your makeup, your body, instructs you to work out and be more 'feminine.'

— Laurie Penny (@PennyRed) May 11, 2016
#MaybeHeDoesntHitYou but he manipulates you into thinking that you're ugly, worthless, stupid and undeserving of all the good things in life

— Feminism Matters™ (@WeNeedFeminlsm) May 11, 2016
#maybehedoesnthityou but he manipulates you and threatens to commit suicide if you leave him.

— LOAFANGURL101 (@KATHERINEALKA) May 10, 2016
#maybehedoesnthityou but he tries to control who you talk to, where you go, what friends you can have, and acts like it's out of love.

— sailor mourn ⚰ (@detricotage) May 9, 2016
#maybehedoesnthityou but you need his approval for everything and he treats you like property and not a person

— Keegan Kenzie (@Keegannnnn) May 9, 2016
#MaybeHeDoesntHitYou but he's conditioned you into thinking you're supposed to ask him before you hang out with other male friends

— jih like lolita (@nangatse) May 9, 2016
#MaybeHeDoesntHitYou but you avoid saying or doing things because you don't want to have to deal with how he might react.

— Jennifer Hodgson (@jennifer_hodg) May 9, 2016
#MaybeHeDoesntHitYou but he makes sure you believe that you're too broken/damaged to ever be wanted by anyone else

— Just Juanita (@Just_Juanita) May 9, 2016
#MaybeHeDoesntHitYou but he makes you feel like all your emotions are stupid and makes you apologize for them

— lindsay (@sloppybankroll) May 9, 2016
#MaybeHeDosentHitYou but he sends messages like this https://t.co/Q3REBLY4cX

— Fatoumata (@Kamari_Danae) May 11, 2016
Domestic abuse is a topic that for too long we have been reluctant to talk about and has remained in the shadows. While there's certainly more work to be done, this hashtag certainly is another step toward beginning that conversation.