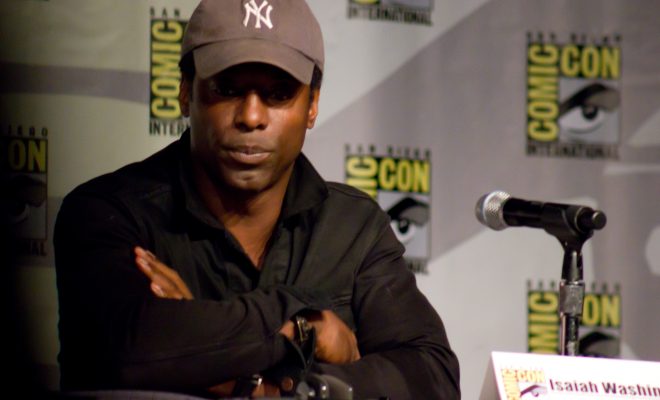 Isaiah Washington Courtesy of [Rach via Flickr]
Society and Culture
Isaiah Washington Urges All African Americans to Boycott Work For a Day
By
|
Actor Isaiah Washington called on African Americans to protest the recent deaths of Keith Scott and Terence Crutcher, by skipping work on September 26 in order to show the world that black lives matter.
Washington's social media campaign began last Tuesday on his Facebook page, and quickly moved to a variety of platforms. The movement gained traction as a trending topic on Twitter the night before; however, it is unclear how many African American plan on participating. Washington posted:
Imagine if every single African American in the United States that was really fed up with being angry, sad and disgusted, would pick ONE DAY to simply 'stay at home' from every single job, work site, sports arena and government office in the United States of America. I'm very sure that within 72 hours from Wall Street to the NFL…Black Lives Would Matter. September 26, 2016 is THE DAY.
On Wednesday, the former "Grey's Anatomy" star followed his initial post by announcing he had teamed up with Madelon "Blue" McCullough from #Missing24–a social media campaign described as "a grassroots movement for our people by our people."
#Missing24 #ItsTime #CanWeDoIt? #ACallToAction #StayAtHomeSeptember262016 #RIPTerenceCrutcher #HandsUpDontShoot pic.twitter.com/FWiDQKOP3C

— Isaiah Washington (@IWashington) September 23, 2016
"Our goal is to maintain the safety of our people, while significantly impacting America's broken judicial system that is oppressing us by removing our labor, our bodies and our money from it … for 24 hours," he wrote.
Washington planned his protest to take place on the day of the first presidential debate. Lester Holt, "NBC Nightly News" anchor and moderator of the first presidential debate released the topics he plans on discussing. The topic "America's Direction," should include the heated debate on race in our country and the Black Lives Matter movement.
Fellow African Americans went to Twitter to voice their own opinions by using the designated hashtag. Responses to the campaign varied–users called out Washington for not understanding the consequences of his movement due to his financial status, while other showed support.
Re: Isaiah Washington & other calls for boycotts: We disrespect the cause by not understanding just how much work & strategy goes into them

— Vann R. Newkirk II (@fivefifths) September 26, 2016
So @IWashington who is a millionaire tells you to skip out on work tomorrow… You will be unemployed by Tues. #StayAtHomeSeptember262016

— Misee Harris (@sexiyest) September 25, 2016
Washington posted on Facebook that CNN's Hazel Pfeifer reached out to him for an interview, but he declined, saying that he doesn't plan on talking to the media "until the People of America give me a 'reason' to."
The actor encouraged active participants to fill out his survey in order to keep track of the movement.