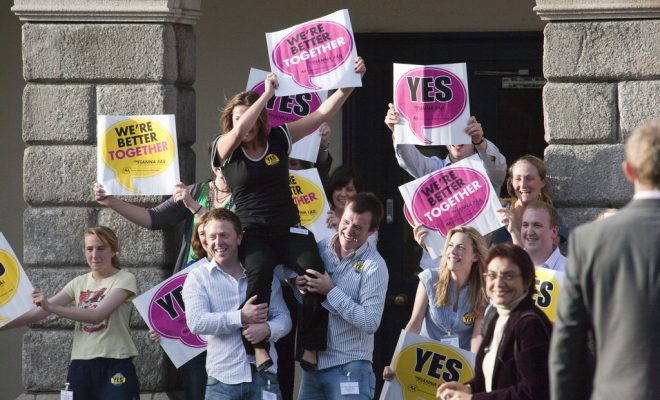 Image courtesy of [William Murphy via Flickr]
Society and Culture
Irish Woman Seeking Abortion Abroad Livetweets Journey
By
|
Two women departed from the Dublin Airport at 6:30 in the morning on Saturday. They arrived in Manchester, England, and immediately commuted to an abortion clinic. The women live-tweeted their journey from the account @TwoWomenTravel. The abortion-seeking woman–accompanied by her friend–was one of thousands of Irish women each year who leave their home country each year in hopes of getting the procedure elsewhere. Most commonly, that elsewhere is Wales or England. Abortions are illegal in Ireland, with an exception for cases where the mother faces immediate death.
#twowomentravel boarding, it's chilly. @EndaKennyTD pic.twitter.com/mffXYkpI71

— Two Women Travel (@TwoWomenTravel) August 20, 2016
According to the pair's final tweet, their purpose for live-tweeting the journey was as follows: "We wanted to show the very ordinariness of the situation-we wanted to show it for what it is; a series of waiting rooms, moments in transit, a sequence of tediums protracted by stigma. No filters, no monologues, just the facts."
Her abortion was successful–though not after getting turned away from one over-crowded clinic–but the discomfort of journeying away from home for an otherwise routine procedure that is unrestricted in many countries around the world, especially in Europe and the West, was poignant. Since 1983, Ireland–a heavily Catholic country–has outlawed abortions via its constitution's Eighth Amendment. In 2012, after a woman died when doctors refused her the procedure, an exception was made to the Eight Amendment for women whose lives were in immediate danger.
Now a waiting room,weighted by bated breaths.@EndaKennyTD we could be home by noon in another world. #twowomentravel pic.twitter.com/1Sqytx6pgM

— Two Women Travel (@TwoWomenTravel) August 20, 2016
All others, like the two that flew to England over the weekend, must travel abroad to legally procure an abortion. Those who illegally undergo the procedure in Ireland face up to 14 years in prison. Amnesty International, a human rights organization, deems Ireland's abortion law as "one of the world's most discriminatory and punitive."
In 2015, nearly 3,500 Irish women traveled to Wales or England for an abortion, according to the Irish Family Planning Association. Between 1980 and 2015, roughly 167,000 Irish women traveled to a country abroad seeking an abortion. And though the number of Irish women getting abortions abroad steadily rose from 1980 to the early 2000s, they have been in decline since 2004, and recent annual figures are comparable to those in early 1980s.
Not the first or the last bleeding women about to face a long treck home @EndaKennyTD #twowomentravel pic.twitter.com/08q2CQE3Yw

— Two Women Travel (@TwoWomenTravel) August 21, 2016
Enda Kenny, Ireland's prime minister, has remained silent on his country's abortion law, which many have been protesting and demanding a referendum to repeal the amendment. Not everybody was happy about the two women live-tweeting their trip to England. Cora Sherlock, the spokeswoman for Pro Life Campaign Ireland, sent out a tweet on Saturday that said: "It is deeply disturbing that the ending of the life of an innocent, vulnerable human being is being live-tweeted today. Very sad."
But Simon Harris, the Irish government's minister for health, took to Twitter to thank @TwoWomenTravel for  "telling story of reality which faces many."