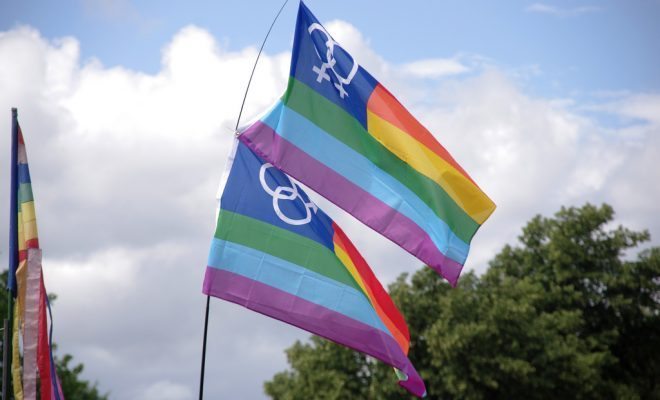 Image Courtesy of  [Matt Buck via Flickr]
Society and Culture
Gay Christian Singles Can Now Mingle on Dating Sites
By
|
Gay Christians will soon be able to find love on some of the most popular religious dating sites. Spark Networks Inc., owner of ChristianMingle.com and other religious dating sites, has agreed to allow gays and lesbians to use its services after the company was sued under discrimination claims. Two men, Aaron Werner and Richard Wright, filed a class-action lawsuit after they noticed that same-sex options were not available on some of the websites that Spark operates.
New users on Christian Mingle were previously required to specify if they were a man seeking a woman or a woman seeking a man. Because of this, the two men felt that they were barred from using the website. California's anti-discrimination law, the Unruh Civil Rights Act, states that business establishments must provide equal accommodations regardless of a person's sexual orientation.
Christian Mingle has lost its suit and must include gays. Christian radio stations will soon be forced to play YMCA by the Village People.

— Mike S. Adams (@MikeSAdams) July 4, 2016
According to the conditions of the settlement, Spark will change their gateway homepages to allow users to just specify if they are a man or a woman. Spark also agreed to create a more comprehensive and tailored matching service for users seeking same sex relationships within the next two years. In addition, Spark will pay the men $9,000 each, along with $450,000 in legal fees to their respective attorneys.
The complaint names some of the other dating sites owned by Spark that the men claim also violate anti-discrimination law: LDSSingles.com, CatholicMingle.com, BlackSingles.com, and AdventistSinglesConnection.com. However, popular Jewish-dating site JDate.com was not included in the lawsuit.
"I am gratified that we were able to work with Spark to help ensure that people can fully participate in all the diverse market places that make our country so special, regardless of their sexual orientation," one of the plaintiffs' attorneys, Vineet Dubey, said in a statement in The Wall Street Journal.
Some people on Twitter expressed their anger, stating that this ruling is a violation of religious freedom.
Christian Mingle is legally forced to cater to gay partner matching despite violating religious beliefs. What happened to the 1st amendment?

— Pissed Off Parker (@LongJohn_30) July 1, 2016
@charliekirk11. The judge is flat wrong. These gay men do not deserve compensatory damages. This dating site is for straight Christians only

— Tinpocket (@echoco2002) July 3, 2016
Although there have been many road blocks put in the way of gay Americans, this ruling signals progress is being made.