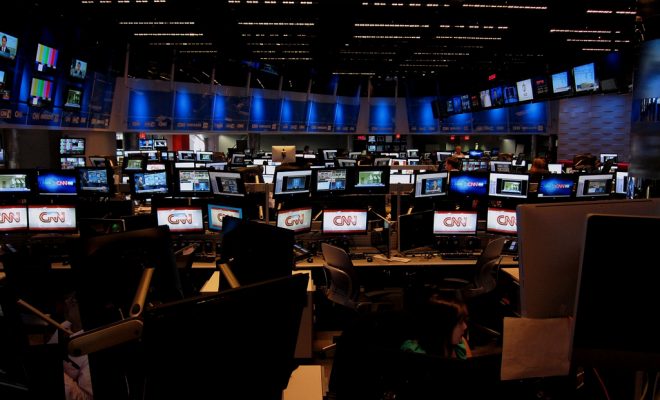 Image Courtesy of DieselDemon License: (CC BY SA 2.0)
Society and Culture
Twitter Responds to CNN and The Hollywood Reporter: The Future of Media is Female
By
|
On Wednesday, The Hollywood Reporter released a cover story about CNN's strategy to rise to the top of the digital media landscape. But the accompanying photo generated controversy when a senior producer for the network tweeted it out, claiming that it represented the "future of media."
The future of media looks like this.

Proud to be part of this team. @CaseyNeistat @Bourdain @jaketapper @wkamaubell and @CNN chief Zucker pic.twitter.com/B7enhLXqYd

— Josiah Daniel Ryan (@JosiahRyan) March 1, 2017
The cover features the producer, Josiah Ryan, as well as the network's president Jeff Zucker, anchor Jake Tapper, comedian W. Kamau Bell–who hosts CNN's show "United Shades of America"—and chef Anthony Bourdain, who hosts "Anthony Bourdain: Parts Unknown."
Ryan's followers were quick to notice something missing about the so-called future of media: there were no women.
The responses ranged from sarcastic to serious, as critics took the opportunity to bring attention to gender disparities in the field. A 2015 report by the Women's Media Center found that women are still underrepresented in newsrooms across the country. According to the study, 60 percent of news broadcasts are anchored by men, 63 percent of bylines for written articles belong to men, and the proportion of female staffers in newsroom has hovered around 36 percent since 1999.
If this is the case, Twitter users noted that the future of media won't look too different.
are you sure this is what the future of media looks like because I think maybe this is also what the past & present of media looks like https://t.co/97ws0pVEVP

— Hanif Abdurraqib (@NifMuhammad) March 1, 2017
Some pointed out the irony of the article marking the start of Women's History Month.
https://twitter.com/NARAL/status/837007640307908610
@JosiahRyan @CaseyNeistat @Bourdain @jaketapper @wkamaubell @CNN great Women's History Month post!! woooo!!!!

— rae paoletta (@PAYOLETTER) March 1, 2017
Though CNN employs well-known journalists and correspondents like Christiane Amanpour, Dana Bash, Erin Burnett, and Brooke Baldwin, none of them were included in the story.
i find it a liiiittle hard to believe THR couldn't find ONE woman at CNN who could sit in on the cover shoot.

— Maya Kosoff (@mekosoff) March 1, 2017
ok come on, this is exhausting. @Bourdain is on here but not a single woman? How is that the future of media? https://t.co/ZzRKX4l7uu

— Olivia Messer (@OliviaMesser) March 1, 2017
One journalist took it upon herself to paint another picture of the future of the media, compiling a list of reporters and writers from a wide range of backgrounds.
since @THR clearly has forgotten that people beyond cis men exist, here's what the *actual* future of media looks like:

— rae paoletta (@PAYOLETTER) March 1, 2017
Sometimes, a gif paints a thousand words.
@JosiahRyan @CaseyNeistat @Bourdain @jaketapper @wkamaubell @CNN pic.twitter.com/zmbobbNmug

— kat calvin (@KatCalvinLA) March 1, 2017
According to advocacy groups like the Representation Project, whose cofounder was behind the documentary "Miss Representation," when media outlets do not portray women as powerful politicians or journalists—or, in this case, do not give them credit for helping to fight "CNN's war"–then other women may be discouraged from pursuing high-level jobs that they perceive to be male-dominated. The Hollywood Reporter has also faced backlash before for failing to represent actresses of color specifically, when it hosted an Oscars roundtable of all-white actresses it considered to be Academy Awards contenders in 2015.
When newsrooms are more diverse in terms of not only gender, but race, orientation, religion, or economic background, these factors can contribute to fairer and more well-rounded coverage of the news.