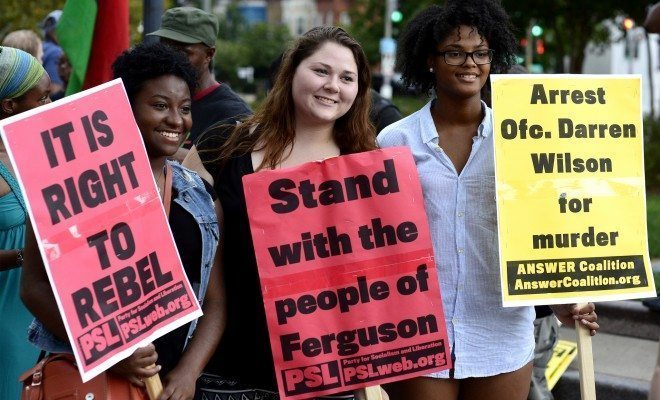 Image courtesy of [Stephen Melkisethian via Flickr]
Society and Culture
Ferguson's New Interim Police Chief: Step in the Right Direction, But Still Not Enough
By
|
There's a new police chief in Ferguson, Missouri and his name is Andre Anderson. Ferguson leaders have introduced him as the city's first African-American head of the police, because they believe he's the right man for the very tough job.
Anderson is taking a six month leave from his Glendale, Arizona commander post to take on the new role of the city's interim police chief. If all goes well, this is a role that could potentially become permanent by the end of his service.
Anderson told reporters his first priority would be "simply to build trust" and enhance the city's recent efforts to get officers to develop positive relationships with people in the areas they patrol. Anderson explained this is not something the force can do on its own. He said to the residents "we cannot do this without you. I believe together, we can forge better relationships." In addition, Anderson also plans to train his officers to guard against bias and escalation, and focus on hiring more qualified Black officers.
While the effort for a change within this department is appreciated, this does not mean the problem has been solved. Change will not come with just a new temporary police chief who is Black and has plans to hire more Black cops and work with the community. Yes, these are all steps in the right direction, but change will not come until our society, which includes police officers, respect Black lives.
After the August 9 shooting death of 18-year-old Michael Brown, an unarmed Black teenager who died at the hands of a white Ferguson police officer, the Ferguson Police Department was suddenly under the microscope. Brown's killing sparked a revolution in Ferguson, creating weeks of fiery protests and threw a national spotlight on the St. Louis suburb of 21,000. The protests only increased when Wilson was not indicted by a grand jury.
Darren Wilson made comments describing what he did as the "right thing to do," because he wasn't quite sure what Brown could be capable of. He claimed that during their scuffle, Brown was abrasive, and tried to lunge at him more than once. He also claimed that Brown told Wilson he was "too much of a p– to shoot him." But many people question the accuracy of his story, as well as Wilson's reasoning. Even though he claimed the outcome would have been the exact same had Brown been white, this is something many are uncertain of, as Brown was also unarmed. The controversy has continued, as the department  saw many resignations after the release of a report from the Justice Department that found a culture of racism in the police department and municipal offices. Former Police Chief Tom Jackson was among the city officials who resigned.
A large issue between police officers and minority communities is that community members fear or do not respect white police officers. If there are more Black police officers in the community, this relationship could change, but it's not enough. This is a great step in the right direction, but that does not mean the problematic culture doesn't still exist. There's still a long way to go to ensure that everyone is treated fairly by the law.