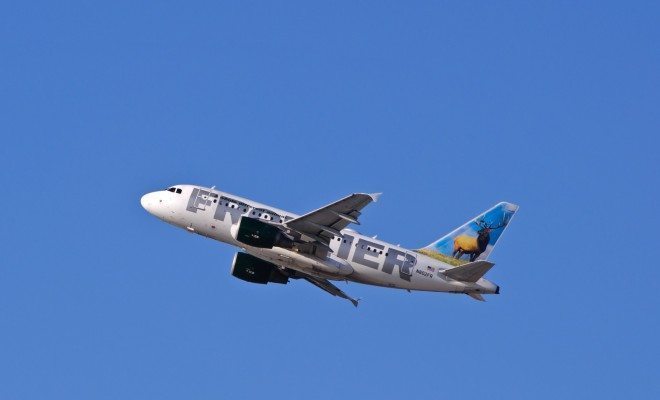 Image courtesy of [InSapphoWeTrust via Flickr]
Society and Culture
Female Frontier Airlines Pilots File Complaint Over Treatment While Pregnant and Nursing
By
|
Four female Frontier Airlines pilots from Denver–Shannon Kiedrowski, Brandy Beck, Erin Zielinski and Randi Freyer–just filed a complaint against the airline company, alleging that they were discriminated against while they were pregnant and breastfeeding.
The women filed the suit with the help of the American Civil Liberties Union with the federal Equal Employment Opportunity Commission. They claim that when they reached the point in their pregnancies where they were no longer able to work as pilots, their only option was to take unpaid leave, as the airline didn't offer them paid leave or the chance to perform other ground-based work. For the four women, this amounted to eight to ten weeks of unpaid leave each.
Additionally, the women allege that after they had their children, accommodations were not made by the company so that they could breastfeed or pump milk. They were not given adequate breaks, nor were they given appropriately designated areas where they would have been able to pump. Not being able to pump breastmilk while nursing can lead to discomfort and pain as well as medical issues, and three of the four women ended up with infections as a result.
While this may seem like an extreme example, maternity leave (and parental leave) and accommodations in the United States are still seemingly stuck in the past. According to an advocacy group called MomsRising that pushes for paid family leave around the United States, only 13 percent of working people have access to paid family leave. In fact, only one other nation doesn't guarantee paid maternity leave–Papua New Guinea. And while it wasn't maternity leave specifically that was at issue for the Frontier Airline pilots, problems with paid family leave and accommodations during and after pregnancy are something that a large majority of American women and families have to contend with. After all, Zelinski explained her motivation for filing the complaint, stating:
I love my job as a pilot so much, except for this issue. We don't want future moms to have to go through this. We want a better policy for everyone going forward. There are more and more female pilots being hired, including at Frontier. We don't want anyone to have to choose between flying and breastfeeding.