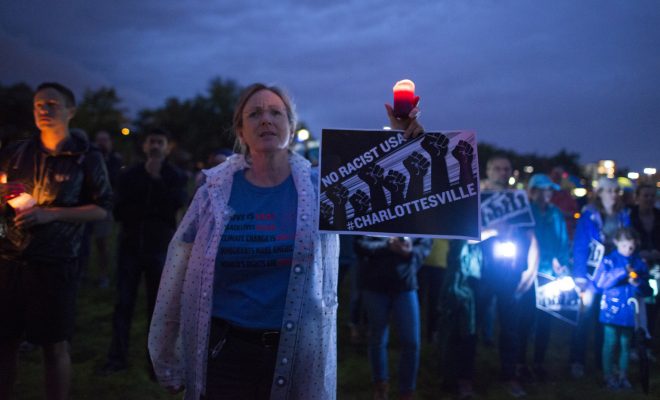 "Charlottesville solidarity vigil" Courtesy of Fibonacci Blue: License (CC BY 2.0)
Society and Culture
Father of Charlottesville Rally Participant Denounces "Hateful" Son
By
|
The father of a participant in the white nationalist rally in Charlottesville, Virginia, has published an open letter to his son, denouncing his "hateful opinions" and saying he is no longer welcome at family gatherings.
Peter Tefft of Fargo, North Dakota, attended the "Unite the Right" rally in Charlottesville, where white nationalists gathered to protest the removal of a statue of confederate general Robert E. Lee. Participants met with counter-protesters and police in an explosion of chaos and violence that left dozens injured and one killed after a rally participant drove a car through the crowd.
Peter Tefft's father, Pearce Tefft, published the letter to North Dakota-Minnesota news site Inforum on Monday morning. In the letter, Pearce Tefft writes that he and his family "loudly repudiate" Peter's white nationalist rhetoric–which he calls "hateful and violent"–and emphasizes that the family does not share these beliefs.
"His hateful opinions are bringing hateful rhetoric to his siblings, cousins, nieces and nephews as well as his parents," Pearce writes. "None of his beliefs were learned at home. We do not, never have, and never will, accept his twisted worldview."
In the letter's closing, Pearce urges his "prodigal son" to renounce his hate and return home, where he will be welcomed only if he decides to "accept and love all."
"We have been silent up until now, but now we see that this was a mistake," the letter reads. "It was the silence of good people that allowed the Nazis to flourish the first time around, and it is the silence of good people that is allowing them to flourish now."
"A Maniac…Crazy Nazi"
Peter became the center of local controversy in Fargo earlier this year, when posters showing his photo and calling him a Nazi and a white supremacist were posted in the city's downtown area in February.
He spoke with several news organizations about his involvement in the Charlottesville rally and defended his views, which he calls "100 percent pro-white." Before traveling to Virginia, Peter penned a letter, published on Inforum, encouraging other white conservatives to "advocate for our civil rights" and warning them of "the left's plan for demographic displacement."
Peter wrote that he was attending the Unite the Right event in Charlottesville to "stand up for rural, traditional Americans" and rally around the statue of Lee.
"We seek to create a contrast between our position and the left; we like debate and they don't," he wrote. "Maybe we will even teach the left a lesson or two about the dangers of censorship and how angry it makes people."
Peter's image and participation in Charlottesville went viral this week after the Twitter account @YesYoureRacist posted his photo, garnering thousands of retweets and likes.
This charming Nazi is Pete Tefft of Fargo, ND — spotted in @UR_Ninja's video: https://t.co/2oslzXHtRZ #GoodNightAltRight #Charlottesville pic.twitter.com/Zqd2gm8mOC

— Yes, You're Racist (@YesYoureRacist) August 12, 2017
Jacob Scott, Peter Tefft's nephew, responded to the viral tweet in a statement, calling Peter a "vile person" who has made "violent threats" against his own family. Scott wrote that several family members had been harassed, both in person and online, by strangers who are under the assumption that they also endorse Nazism.
"We are all bleeding-heart liberals who believe in the fundamental equality of all human beings," Scott wrote in a statement to Inforum. "Peter is a maniac, who has turned away from all of us and gone down some insane internet rabbit-hole, and turned into a crazy Nazi. He scares us all, we don't feel safe around him, and we don't know how he came to be this way."