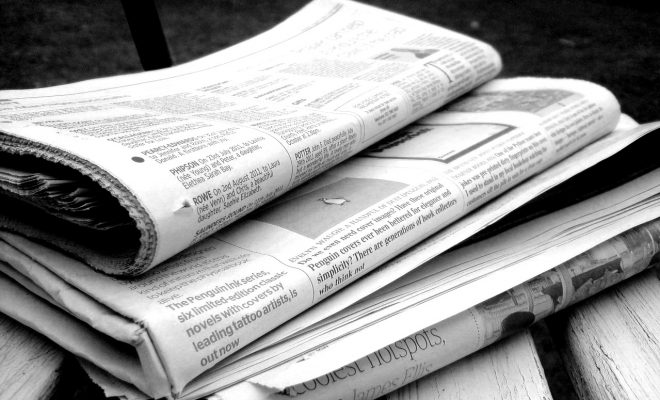 "Newspapers B&W (5)" courtesy of Jon S; license: (CC BY 2.0)
Society and Culture
A European Task Force is Battling Fake News, One Story at a Time
By
|
These days, fake news is everywhere. After all, 2016 was marked by "post-truth" becoming the word of the year and the made-up news stories that made their way around the internet. Some of the stories that sprung up last year were so bizarre it is incredible anyone would believe them, but fake news is now being blamed for things like Donald Trump's victory. Back in March 2015, a group of 11 European diplomats, bureaucrats, and former journalists based in Brussels started investigating the origins of fake news stories under the name East StratCom. In the 16 months since, the group has debunked about 2,500 stories.
The European Union has a new unit to combat Russian propaganda, an 11-member team called East Stratcom. https://t.co/TtsfAd8bJZ

— Steven Lee Myers (@stevenleemyers) February 21, 2017
Incorrect information has always been easily spread. But last year was different, given the controversial U.S. election, and how quickly fake stories could spread via social media, especially Facebook, which came under fire for trending fake articles in the fall. The problem was also spurred on by Google, where stories that went viral would pop up toward the top of searches because of the traffic they had gained. Purveyors of fake news would also try to make their websites look like real news sites, and place their fake stories next to genuine ones.
The European Council created East StratCom specifically "to address Russia's ongoing disinformation campaigns." Most of the team members know Russian and they work full time scanning the web for fake stories. They try to debunk stories in real time on social media, send out newsletters and inform their followers about fake news. They have over 14,000 followers on both Facebook and Twitter. But they say it is impossible to cover as much as they would want to.
Conspiracies: the bread & butter of pro-Kremlin disinformation. Don't be deceived & read #DisinfoReview: https://t.co/7tkJBWaRaR pic.twitter.com/14mAFDuFFR

— EU Mythbusters (@EUvsDisinfo) February 17, 2017
This year, France, Germany, and the Netherlands all will hold elections and many people are worried that outside efforts will succeed in influencing the outcomes, like it seems they did in the U.S. The Russian goal is believed to be to undermine the European Union and gain more control in the region. And several of the team members have received death threats, with one of them being accused twice on Russian TV of being a spy.
President Donald Trump has made a point out of calling mainstream media "fake news" but has also spread incorrect information himself. In a speech at a Florida rally last weekend, Trump mentioned something that allegedly happened in Sweden when talking about immigrants and crime, implying that there had been some sort of terror attack. He later explained on Twitter that he was referring to something he'd seen on Fox News, and once again attacked Sweden and the "fake news media."
Give the public a break – The FAKE NEWS media is trying to say that large scale immigration in Sweden is working out just beautifully. NOT!

— Donald J. Trump (@realDonaldTrump) February 20, 2017
This tendency to quote false information as if it were real is an actual danger to democracy, says British politician Damian Collins who is examining the phenomenon. "There are concerns shared by many governments that fake news could become weaponized," he said. "The spread of this type of material could eventually undermine our democratic institutions."
And while East Stratcom works as hard as possible to debunk fake news stories, the speed of information sharing on social media has many experts doubting whether the efforts will have any effect. And given the anonymity of the internet, it is virtually impossible to find the perpetrators.